Is making money online without any investment possible?
Many people tend to ask this question when they somehow find out that making money online is an actual thing.
Why would someone want to spend money in order to make money right?
I know I wouldn't!
Truth is, there are some ways to earning some money online without requiring  you to sacrifice any of your own to do so such as:
Online Data Entry
Form Filling
Conducting Surveys
Captcha Solving
PTC(paid to click and watch ads)
Those kinds of jobs require no skill whatsoever and anyone can do them.
But consider the following… Since anyone could work such jobs and make money through them, then why isn't everyone working them?
The answer is "Because no person can earn any serious amount of money from them!"
If your goal is to be making 10$ to 50$ and maybe on some very rare occasions 100$ per month(and I am being very generous here) then you could start going after such jobs.
However, always be on the lookout for scams!
If they ask you to fill in your credit card info in order to sign-up, get the hell out as fast as you can, even if they swear to God that they won't charge it.
On the other hand, the ones that are not scams might not even be paying you real money but coupons and exchange points (Yikes!)
I have tried a couple of those "jobs" in the past… I've made a few bucks working them.
I have also witnessed some of those jobs shutting down faster than the speed of light paying no one who worked for them.
This is not my kind of thing in any way… I consider it just a waste of time and energy.
And I really hate wasting my time and energy into things that lead nowhere just to make a couple of bucks.
However, I eventually discovered one of the most legit ways towards earning a substantial and steady monthly income while working online, without requiring any initial investment and in this article, I will let you know everything about it.
Before I do though, a little backstory.
A Little Back-story
A couple of years ago, I was working a part-time job at a large multinational company.
I was living with my parents.
I hated the fact that I was making so little money that I couldn't have my privacy, be independent and live life as I wanted.
I was constantly on a job hunt but my country's economy was going down the drain so the possibilities of finding a full-time, decent-paying job seemed to lessen over time.
I used to keep surfing the internet a lot, watching documentaries, reading articles, etc.
One day I had an epiphany!
"Since I am spending a lot of my free time on the internet, why don't I start looking if there is any way to start making some money through it?"
Naturally, I started researching!
Of course, I could not really afford to spend any of my money, so, just like you, I was looking for something that required no initial investment.
I kept bumping on scam after scam for several months and I was getting more and more disappointed.
One day, while I was on one of those survey websites, I scrolled down the comments and there was a guy claiming that it was a scam and that he could show me "The real way to earning money online" if I clicked his link.
I went ahead and clicked…
I got redirected to his website and landed on a 7000-word article on affiliate marketing which he had composed and I read each word carefully…
The more I kept reading about it, the more I was convinced that affiliate marketing was not just another scam but something of substance and maybe the closest to what I was looking for.
He kept going about people who are making thousands a month through it and that he was one of them.
"If people are earning thousands a month this way then I might be able to start earning a couple of hundred that I need," I thought.
At the end of his article, he had a link to a website called Wealthy Affiliate, stating that everything I needed to get started could be found in there and that I could join for free.
I remained skeptical for a while… "Yeah right… They are going to be asking for a credit card again and I will have to leave"
But to my surprise, they didn't… I joined without a second thought.
A couple of years later, I am still a Wealthy Affiliate member and I am here to let you know all about it.
From this point on, if my story didn't bore you to death and you are still there, bring your full attention to this article as I am going to open your eyes to another world previously unknown to you.
What is Wealthy Affiliate?
Wealthy Affiliate is a state of the art online affiliate marketing training portal, which has already inspired and enabled thousands of people towards succeeding in making a full-time income, or maybe more, by turning them into online affiliate marketers.
As an online affiliate marketer, you are basically a business owner.
Your business is just like a regular one but instead of an actual address and a front you have a web address(domain name) and a website.
People will be visiting your website, just like you visited this one, and all you do is recommend products of other companies to them. Some of them will purchase those products and with every purchase, you will be earning a commission.
Online affiliate marketing is increasing in popularity over the years, as it is one of the very few ways that
requires little to no investment at all to get started
has the potential to generate thousands of dollars a month down the road
With the internet growing at such fast rates, building your own online affiliate business right now can be a very wise choice.
And I saved the best for last…
Wealthy Affiliate is providing you everything you need to get started
The domain name
the website
the hosting
the basic training
and much more
with no initial cost!
Wealthy Affiliate is currently my #1 recommendation for people who are dead serious about creating a substantial online income and don't wish to spend anything to get started.
However, as a free member, you won't have access to everything Wealthy Affiliate can offer.
If at some point you need to get unlimited access to all Wealthy Affiliate's resources you will have to upgrade your membership to premium.
So, let's take a look at the membership options in Wealthy Affiliate.
The Memberships
There are basically two kinds of Wealthy Affiliate memberships… There is the Free membership and the Premium membership.
The Free Membership
The Free membership is the starting point of your success online. You get a good deal of access to the tools and training of the platform with this kind of membership.
However, if at some point you decide to unlock Wealthy Affiliate's full potential and gain full access to all of its tools and resources, you will have to go Premium.
The Premium Membership
The premium membership offers you 4 options:
1/ 1st Premium Month – 19$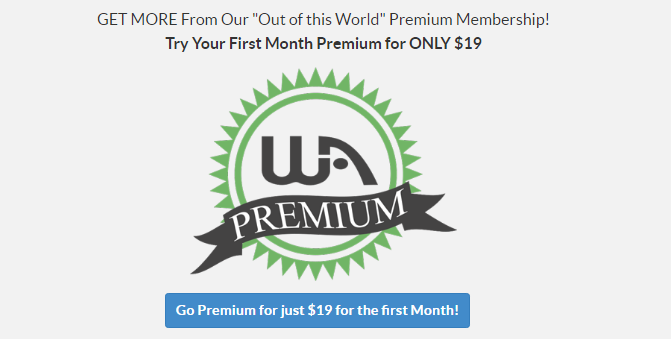 You can get your first premium month for only 19$ if you upgrade your membership during your first 7 days as a free member.
Wealthy Affiliate's CEOs, Kyle and Carson, are offering you this deal in order to let you get a taste of the full potential of the platform, without being forced to spend almost 50$ at once.
2/ Premium Per Month – 49$
This premium membership is on a pay-per-month basis.
If you upgrade to a premium membership lets say on the 15th of May, your monthly payment of 49$ will have to keep taking place on the 15th of every following month.
You can cancel a monthly premium membership whenever you want.
3/ Yearly Membership – 359$
You could also pay your premium membership upfront for a year.
This will cost you 359$ which means 29.9$ per month… That's less than a dollar(0.98$ to be exact) per day!
Paying for a yearly membership, you are saving 229$ in total each year compared to paying per month.
4/ Black Friday to Cyber Monday Yearly Offer 299$
That's basically the cheapest premium option.
You can upgrade to a yearly premium membership, paying just 299$.
This special offer is in place ONLY for the four days, from Black Friday until Cyber Monday.
Let's do the math:
299$ a year =
24.90$ per month
0.8$ per day
saving 289$ compared to paying the premium monthly
As I told you earlier, I had no money to spare, so initially, I went for the Free membership.
5 days later I took the 19$ offer and upgraded to premium.
I decided to keep saving 49$ a month for a while, in order to be able to keep paying for the premium monthly membership, which was really hard if you take into account that I was making less than 400$ a month.
After one year of paying per month, I took the Black Friday 299$ yearly offer and I am going to do the same this year as well.
However, let's not get so ahead of ourselves…
You are here to start making some money online with no initial investment…
You don't know a thing about Wealthy Affiliate yet so there is no point in talking about upgrades now, so forget everything about the premium membership and let us take it one step at a time.
Your First Steps to Making Money Online
The moment you are on the platform you are going to be asked to take a tour… Make sure to take it.
Get started on the beginner's training
If you follow my instructions, in 2 hours from now, you will have
fully set up your account
a complete understanding of how affiliate marketing works and how you are going to make money from it
created your first online business (website)
understood if affiliate marketing is for you or not
not spent a dime.
Basically, all you have to do is take the first step and create your free account.
I promise you that everything else will come by itself.
7 Quick Tips for When You get Inside Wealthy Affiliate
Don't even bother with the live chat until you complete the first 10 lessons of the Entrepreneur Certification
Take your time and don't rush through the training
Don't leave your training tasks for later because chances are that you will never actually do them
Go through the lessons in order. Don't jump ahead
Do exactly as said in the training… At least until you get comfortable enough to start experimenting
Don't be afraid or ashamed to ask for help. There is no such thing as dumb questions
Take the 19$ first-month offer in order to get a grasp of the full potential of Wealthy Affiliate for a whole month. After that, you will definitely know if affiliate marketing is your kind of thing or not
Why You Need to Join Wealthy Affiliate
Let's say that you decide to become a pro sprinter.
However, you have no clue; you don't know how and where to start.
You know nothing about your workout, your diet and meal plan, your resting periods, etc.
Of course, you could start experimenting by yourself, going through trials and errors and at some point you might become able to start competing professionally.
Although let's face it, it will take a lot less time and effort on your part if you just went ahead and hired a professional trainer who has trained tons of people before you and knows way more than you.
What you will spend in money, you will save in effort and time.
Joining Wealthy Affiliate is the equivalent of hiring a professional trainer to teach you everything about affiliate marketing.
Without Wealthy Affiliate:
You will have to do all the research and put each piece in the right place on your own
You might waste a lot of time and effort learning the wrong stuff or the right stuff in a wrong way
It is probable that you will come across more obstacles and setbacks which will lead to more frustration
Frustration increases the chances of giving up
It will take way more time and effort on your part until you finally succeed
Your success might not be as great as it would be if you had invested in getting the right tools and training
You won't know if you are moving in the right direction resulting in doubting yourself more and doubt kills success
Your competition which might have invested will always have an advantage over you; you might even end up getting trampled by them
And once again the best part is that you have the ability to test-drive Wealthy Affiliate without risking any of your money before and if you decide to go all in.
Summing up
The way I see it, you've got 2 options.
You get started with those survey jobs and data entry jobs struggling to earn 50$ a month
You go for something bigger and start creating your affiliate marketing business right away
Of course, there are other options towards making money online which might resemble affiliate marketing in simplicity and initial investment, but affiliate marketing is one of the simplest and cheapest ones.
So, make sure that you don't miss your chance to get started for FREE… This is why you came here in the first place isn't that right? To find out how to start making money online without investing any of your own?
That's what I am showing you!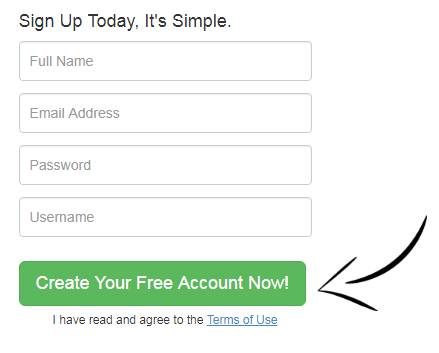 If you have any questions or need any help from me, I encourage you to leave a comment below or send me an email at harry@dearboss-iquit.com and I will get back to you as soon as possible.
My best regards,
Harry!