Sooner or later, most people who're either about to venture into affiliate marketing or have just launched their first affiliate business wonder…
"Is affiliate marketing really profitable?"
If you're one of those people, you're in the right place!
This article is dedicated to sharing with you all the information you might need to fully understand affiliate marketing's profit potential so that you can make an informed decision about whether you should invest time, energy, and money in launching and scaling your own affiliate business or not.
Without further ado, let's get started…
Is Affiliate Marketing Really Profitable?
Yes, affiliate marketing can be very profitable assuming that you invest the required amounts of time, effort, and money. As a matter of fact, affiliate marketing is the 3rd largest source of online sales after organic and paid search, contributing to 15% of all digital media revenue.
Let's take a closer look at the actual numbers, shall we?
Best Affiliate Marketing Courses
It's Worth Over $14 Billion
According to this roundup of affiliate marketing statistics, the global value of affiliate marketing in 2017 was estimated at 14 billion dollars.
Since the affiliate marketing industry seems to be steadily growing at an average rate of 10% per year, its global value is expected to have surpassed 30 billion dollars by 2025.
It Generates 15% of Digital Media Revenue
An affiliate marketing report that was released in 2016 by Business Insider, revealed that affiliate marketing was responsible for as many online sales as email marketing, contributing to at least 15% of all the revenue generated within the digital media industry.
This means that affiliate marketing is currently the 3rd largest source of online sales, after organic search (21%), and paid search (19%).
1.6% Of Amazon's Annual Revenue Is Paid to Affiliates
A study published by PRWeb back in 2013 revealed that affiliate marketing was responsible for 40% of Amazon's total revenue.
Since Amazon has a 4% average commission rate, 1.6% of the company's revenue lands right into the pockets of its affiliates.
To give you an example, in 2020 Amazon generated $386.1 billion in revenue. As such, over the course of that same year, Amazon's affiliates got paid ($386.1 billion * 1.6%) = $6.1 billion worth of commissions.
Amazon's affiliate program is just one among thousands that exist out there… As a matter of fact, affiliate marketing is being utilized by over 81% of all US-based advertisers.
Some of the most notable companies that are currently running affiliate programs are:
Microsoft
Apple
Nike
Adidas
Walmart
Samsung
eBay
Etsy
& more
Lastly, affiliate marketing is being leveraged by more than 84% of all US-based publishers (bloggers, YouTubers, influencers, etc) towards monetizing their content.
Having said all that, if affiliate marketing wasn't profitable, no company, advertiser, or publisher would ever invest their precious time, energy, and money in utilizing it.
13% of Affiliates Make Over $75,000/Year
Based on an affiliate marketing benchmark report that was published by AffStat in 2016, 13% of all affiliate marketers reported earnings of over $75,000 per year.
Furthermore, a poll held on the STM Forum revealed that out of the 117 affiliates polled, 71 were making over $81,000 in yearly affiliate commissions.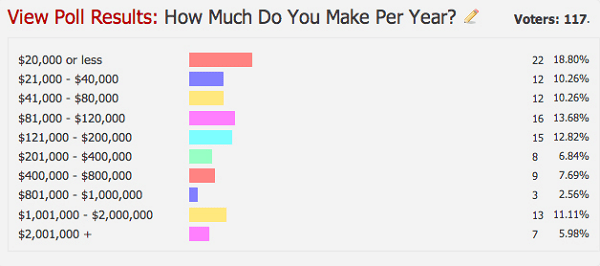 Such high profitability rates place affiliate marketing among the most lucrative online monetization models that currently exist.
Let's take a closer look at the commissions generated by some seasoned affiliate marketers, such as:
Pat Flynn
Tom Dupuis
Doug Cunnington
Alex Nerney
& John Miguel
Then, I'm going to share with you exactly how much profit I personally generate through my own affiliate endeavors.
Pat used to be sharing monthly income reports that documented the growth of his affiliate business (smartpassiveincome.com) from $8000/month to $100,000/month over the course of about 10 years.
Unfortunately, they're not available anymore…
Nonetheless, in the video right below, Pat explains exactly how he generated more than $300,000 in affiliate commissions by promoting just one single product.
Tom embarked on his affiliate marketing journey back in 2011 by launching onlinemediamasters.com.
At the time I'm putting together this article (2021), Tom's affiliate endeavors bring in about $150,000 per year.
You can check out for yourself some of Tom's affiliate income reports right here.
Doug Cunnington is the owner of nichesiteproject.com as well as an affiliate marketing course called "Five Figure Niche Site".
Doug has been earning more than $70,000/year via affiliate marketing since 2013.
Within this income report (or the video right below), Doug reveals exactly how he managed to scale a niche website he'd launched back in $2016 from $100 to $70,000 in just 2 years.
Alex Nerney ventured into affiliate marketing back in 2015. A few months later, Alex realized that his first affiliate blog was underperforming and he had to shut it down…
Soon after, Alex launched a second affiliate blog called "Avocadu" which he grew from zero to $10,000 per month in just one year.
At that point, Alex decided to start a third affiliate blog called "Create And Go" that would revolve around documenting his journey to leveraging blogging and affiliate marketing towards building an income online.
By 2018, Alex's blogging efforts were bringing in more than $144,000 in monthly revenue (watch the video below).
According to his latest income report, in June 2021, Alex earned over $35,000 in affiliate commissions.
John launched his first affiliate website, startmakestopwaste.com, back in May 2015.
Fast forwards 4 years, in January 2019, John reported generating $3700 in a single day (see image below).
John is currently running at least 3 other pretty well-established affiliate websites like:
johnconsol.com (a solar panel business consulting website)
kingcryptos.com (a cryptocurrency website)
installoffgridsolarsystem.com (solar panel website)
Even though John has never actually published an income report, based on my own calculations, his total monthly income should exceed $50,000.
I first stumbled upon affiliate marketing back in 2016… However, I didn't really put any effort into leveraging the model towards building an income online until 2019.
Just two years later, at the time I'm putting together this article (July 2021), my affiliate endeavors bring in anywhere between $1000 and $2500 per month!
Right below, you can take a look at a screenshot of my PayPal account displaying the $2000 in affiliate commissions I generated last month (June 2021).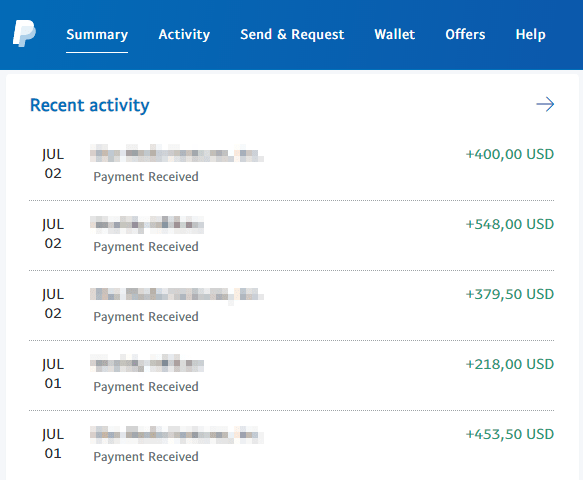 Furthermore, here's a screenshot of a pretty sweet $930 commission I earned in just one day a couple of months ago by promoting a high-ticket product!

The factors that influence how much money you make with affiliate marketing are numerous…
One of those factors is seniority… For example, someone who's been involved in affiliate marketing for 10 years is most likely going to be earning much more money than someone who's been working as an affiliate for just 1 year.
The niche you pursue is yet another factor… For instance, some niches (e.g. weight loss & dating) have a much higher profit potential than others (e.g. gaming gear & home gardening). However, it's worth noting that the higher the profitability of a niche, the fiercer the competition within it.
One more factor is the resources you have at your disposal… For example, if you have the capital to invest in a decent affiliate marketing course, some premium tools, and hiring a small team, chances are that you'll be able to build a significantly higher affiliate income much faster than someone who has no guidance, capital, team, and tools.
Other factors that may influence your affiliate profits include, but are not limited to:
Time you devote
Consistency
Marketing efforts
Quality of work
Resolve
Overall mindset
Expectations
& more
(Click each question to expand)
Conclusion
Affiliate marketing isn't just profitable, but also among the most lucrative online money-making models that currently exist…
As a matter of fact, the upwards trajectory affiliate marketing has been experiencing since it was first conceived back in 1989, isn't going to stop anytime soon.
That being said, if you'd like to be among the people who get their hands on a piece of that pie, there's undeniably no better time to get started with affiliate marketing than now.
However, the process of building a successful affiliate marketing business is no piece of cake but rather involves a steep learning curve, a lot of trial and error, consistent work, and massive patience.
Nonetheless, you could short-circuit and streamline your journey to affiliate success, by signing up for a dedicated high-quality affiliate marketing course.
Have any questions?
Leave a comment right below or contact me right here.
I'll be more than happy to help you out!
All the best,
Harry, Founder & Editor at dearboss-iquit.com