Lately, I've been seeing a lot of people on forums, social media, and online communities wondering – "Is affiliate marketing passive income?"
So, I decided to seize this opportunity and write a blog post that provides an in-depth answer to this question. 
Let's take a closer look!
Passive income is money generated by work completed in the past that requires very little to no additional effort to maintain.
An example of passive income is the royalties paid to an actor for participating in a TV series.
For instance, each cast member of the TV series F.R.I.E.N.D.S, which has ended since 2004, is still getting paid $20 million in yearly royalties to this day for participating in the show.
Passive income might sound fantastic, but creating it requires a substantial investment of time, effort, and/or money. 
For example, according to Forbes, the total overhead of F.R.I.E.N.D.S 10-year broadcast run is estimated at $170 million. On top of that, filming, producing, and getting each episode ready to hit the screens, probably involved hundreds of hours of work.
Best Affiliate Marketing Courses
Is Affiliate Marketing Passive Income?
No, affiliate marketing isn't passive income by itself but rather an online monetization model that, if implemented the right way, can be potentially molded into a source of passive income.
In fact, Bankrate lists affiliate marketing as the 3rd best passive income opportunity.
To give you an example, most of my current affiliate revenue is generated passively through blogs, reviews, videos, and social media posts I published several months ago. If I were to stop working on my affiliate business right now, my affiliate income would keep flowing in unaffected for many months or maybe even years down the road.
Reaching such a point usually involves a steep learning curve, tons of upfront work, a lot of trial and error, and massive amounts of patience over a substantial timeframe that could span several years.
Right below, I'll be outlining the step-by-step process of building an affiliate marketing business that brings in a steady stream of passive income online.
How to Earn Passive Income With Affiliate Marketing
While successfully leveraging affiliate marketing towards building a passive income online can be approached from dozens of different equally legit angles, the fundamental process can be broken down into four basic steps:
Pick an Evergreen Niche
Build Online Assets
Acquire Passive Web Traffic
Promote Recurring Billing Products
Let's take a more detailed look at each step separately.
1. Pick an Evergreen Niche
The first step to making money with affiliate marketing is picking a target niche. The key to turning that money into passive income is ensuring the affiliate niche you pursue is evergreen.
Evergreen niches are business markets that have year-round demand, such as:
Electronics
Investing
Cosmetics
Yoga
Cooking
& more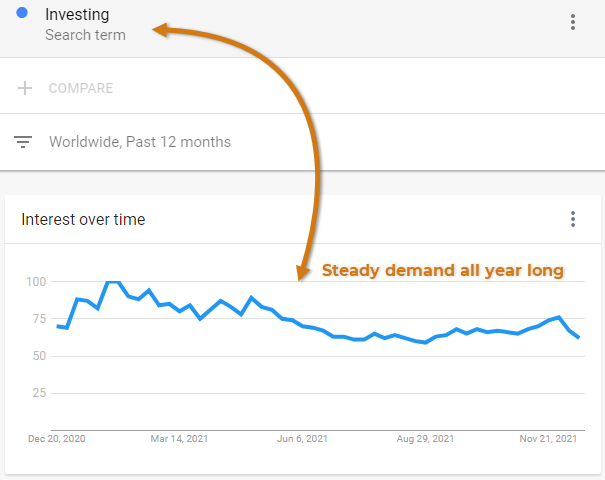 On the contrary, any niche whose demand relies on seasonal trends (e.g., Christmas gifts, Halloween costumes, skiing equipment, hunting gear, etc.) can't be considered evergreen.
Building your affiliate business around a niche that isn't evergreen could drastically diminish your potential for passive affiliate income.
If you're a beginner to affiliate marketing, I'd also suggest that you avoid niches consisting of too many seasoned competitors that could trample inexperienced affiliates with no authority, such as:
Health, Fitness, & Weight Loss
Personal Finance & Making Money
Dating & Relationships
Beauty & Fashion
Personal Development
Ultimately, the less competitive a niche is, the higher your odds of successfully breaking into it.
Lastly, it's highly recommended that the niche you decide to pursue centers towards a subject that interests you or, even better, ignites your passion.
Building a profitable affiliate business involves putting in consistent effort over a substantial period of time so, if you pick a subject that bores you to death, you're more likely than not to give up before you even make your first affiliate sale (or soon after).
On the contrary, focusing on a topic you love will keep you fired up to do more consistent and higher quality work, stick with your affiliate endeavors even when the going gets tough, and progress better and faster towards reaching your financial goals.
Once you've zeroed in on an evergreen niche, it's time to start building online assets.
An online asset is anything you can use to reach out and interact with your target audience over the internet, such as:
Blog
YouTube channel
Instagram page
Facebook group
TikTok account
etc
You can think of your online assets as "digital signposts" that direct people in your selected niche to the e-shops of the merchants you've formed affiliate partnerships with.
The two online assets that offer the highest potential for transforming your affiliate earnings into passive income are:
Blog
YouTube Channel
That's because well-optimized, high-quality blog and YouTube content will almost certainly keep attracting viewers for multiple years after being published (assuming, of course, that your niche is evergreen).
For instance, the WordPress eCommerce tutorial published by affiliate YouTuber WPTuts 10 months ago is still being watched by hundreds of people daily.

On the contrary, all content posted on most social media platforms tends to experience an intense initial spike in reach and engagement that sharply diminishes a few days later until it completely stops being viewed by anyone.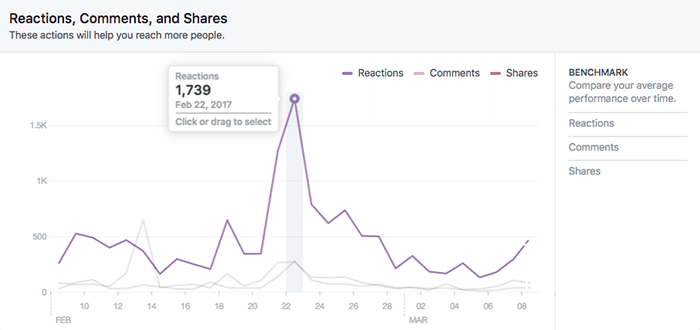 If you're after earning a passive income with affiliate marketing, I strongly advise you to invest most of your resources in starting an affiliate blog, a YouTube channel, or both. 
3. Acquire Passive Web Traffic
The third step to earning a passive affiliate income is creating a source of passive web traffic, that is, a steady flow of users landing on your online assets that persists with minimal or no active involvement on your part.
Obtaining passive web traffic is achievable by implementing one or more of the three following methods:
Content Marketing
Search Engine Optimization (SEO)
Paid Advertising
3.1 Content Marketing
Content marketing is the process of publishing niche-relevant content on your online assets, such as:
Tutorials
How-to guides
Product reviews 
Roundups
Case studies
etc
To give you an example, The Tech Chap YouTube channel that revolves around the tech gadgets niche focuses on publishing content in the form of YouTube videos that cover subjects relevant to tech gadgets, such as:
Laptop reviews
Smartphone unboxings
Product comparisons
Purchasing guides
Device tips
& more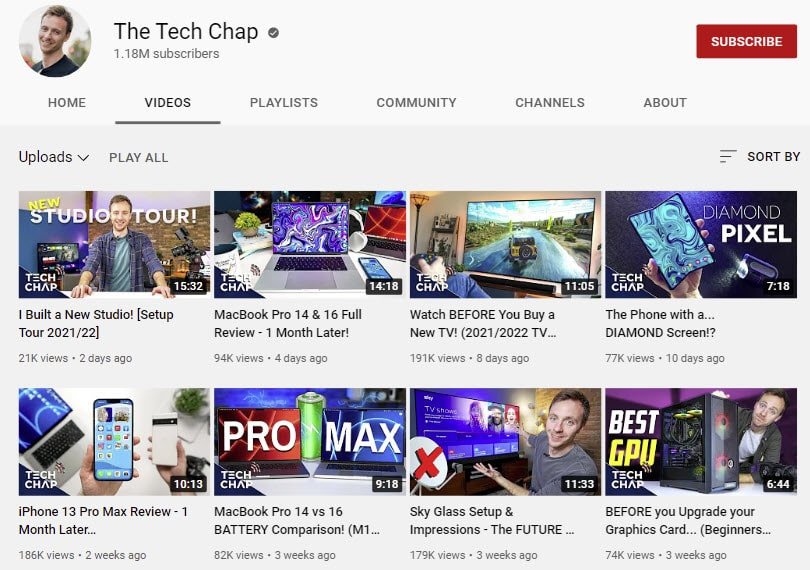 Likewise, since Dear Boss I Quit gears towards the affiliate marketing niche, its content marketing strategy centers around posting content in the form of blog posts encompassing affiliate-related subjects such as:
Emulating a similar content marketing approach tailored to your target niche and the workings of the online asset(s) you operate is one of the best methods to creating a passive affiliate income.
That's because every piece of content you create once could keep acquiring traffic and affiliate sales for many months or even years down the road.
For example, this roundup of affiliate marketing success stories I published back in September 2021 still brings in a steady stream of affiliate commissions to this very day, despite having not spent a single additional minute working on it.
That's passive income!
3.2 Search Engine Optimization (SEO)
Search Engine Optimization (SEO) is a set of practices designed to "convince" search engines like Google, Bing, and Yahoo to display web pages at higher positions of their search results.
That's because the higher position a web page occupies on a search engine's results pages (SERPs), the more traffic it receives.
For example, according to Search Engine Watch, a website ranked in Google's position #1 gets visited by 30% more people than one ranked in position #10.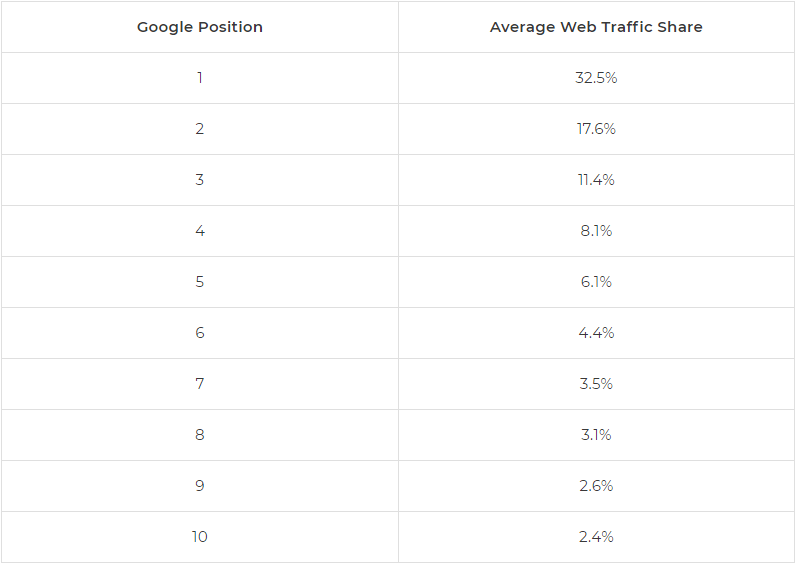 SEO is perfect for creating a passive affiliate income because once a web page gets ranked in a decent average search engine position, it'll likely maintain its ranking and keep pulling potential buyers for the months or maybe even years to come.
For instance, my article "10 Surprising Reasons You Hate Every Job You've Ever Had", which is positioned between the 2nd and 3rd spot in Google's SERPs, has been receiving a steady flow of daily visits yielding consistent affiliate commissions for over 16 months.
3.3 Paid Advertising
Paid advertising is the process of getting the affiliate products you endorse in front of potential customers by placing paid promotions on third-party digital advertising platforms like Google, Facebook, and Instagram.
Paid promotions can be broken down into multiple different categories, including, but not limited to:
Display Ads: Banners, texts, or images placed on third-party websites
Paid Search Ads: Displayed on search engines like Google & Yahoo
Social Media Ads: Served on social media platforms like Facebook & Instagram
Sponsored Ads: Content created and distributed by influencers
Native Ads: Promotions that resemble the style of the platform on which they appear
Paid ads are excellent for earning a passive income with affiliate marketing, as once you get them up and running, they'll keep directing users to your affiliate links on autopilot for as long as you fund them.
4. Promote Recurring Billing Products
While making money with affiliate marketing is achievable by promoting any product, subscription-based products that involve recurring membership payments are the holy grail of passive affiliate income.
That's because contrary to standard products that yield a one-time commission per sale, a one-off customer referral to a product with recurring billing could keep generating affiliate commissions month after month for as long as they maintain their subscription.
For example, if you refer 100 customers to an affiliate product that pays a $50 recurring monthly commission, and we assume that all of them maintain their subscriptions, you'll be earning $5000 per month in passive affiliate income. 
Moreover, additional referrals will further compound your monthly affiliate revenue.
For instance, making 50 new referrals on top of your 100 active ones will skyrocket your total affiliate commissions from $5000 to $7500 per month.
Some of the most commonly promoted recurring billing affiliate products include, but aren't limited to:
Hosting Providers
Digital Courses
SaaS (Software as a Service)
Online Communities
Stock Content Websites
VPN (Virtual Private Networks)
Digital Services
& more
(Click each question to expand)
Conclusion
While building a passive income online is achievable by leveraging a vast array of monetization models, affiliate marketing is among the best, simplest, and most cost-effective ones.
Yes, as mentioned earlier, reaching the point that you earn a passive affiliate income is no piece of cake but rather involves a steep learning curve and tons of upfront work over a substantial timeframe that could span several years.
However, considering that the end result could look something like you, generating money while sleeping or on vacation, I'd say that it's worth all the trouble.
Frankly, starting an affiliate marketing blog is, if not the best, one of the best decisions I've ever made.
As such, if you're not quite sure about whether you should venture into affiliate marketing or not, I urge you to do so as soon as possible.
If you have any questions or require further help getting started, I encourage you to leave a comment right below or contact me right here, and I'll do my best to get back to you as soon as possible.
Best of luck in your affiliate marketing endeavors!
Harry, Founder & Editor at dearboss-iquit.com