The key to succeeding as a ClickBank affiliate is promoting your selected products as effectively as possible.
However, you're on zero budget and as you might already know, becoming a successful affiliate requires a significant monetary investment.
Or is it?
Truthfully, while leveraging some marketing channels like PPC can be rather costly, there are dozens of methods you can get the ClickBank products you promote in front of potential customers for free.
In this article, I'll be covering the best ones.
Let's take a closer look.
The 9 Best Ways to Promote Clickbank Products for Free
Best Affiliate Marketing Courses
1. Affiliate Blog
One of the best ways of promoting ClickBank products for free is an affiliate blog.
Now, I know what you're thinking… Creating a blog must be rather pricey, right?
Well, it depends.
While starting an affiliate blog could indeed set you back quite a bit, you can completely sidestep all its initial costs by creating it on a free subdomain using site builders like WordPress and Wix.
The 17-minute video right below outlines the process of launching a simple WordPress-based affiliate blog on a free "siterubix.com" subdomain in just 30 seconds without spending a single dime.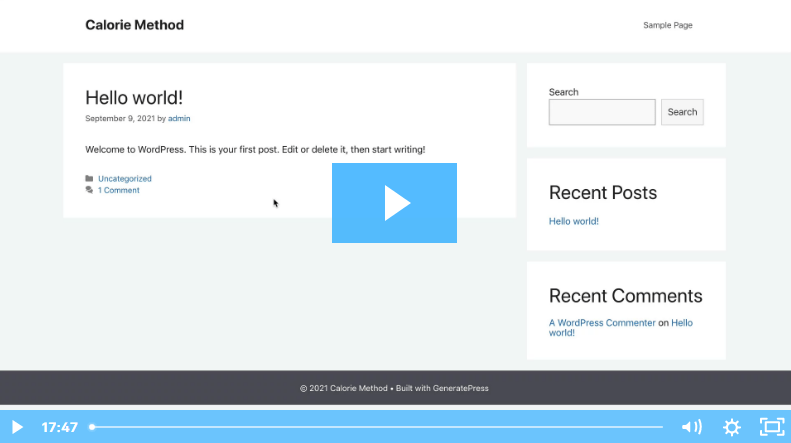 Once your affiliate blog is live, start boosting its exposure by leveraging free traffic generation methods like blogging and search engine optimization (SEO).
Blogging is the process of publishing blog posts such as:
Tutorials
Product reviews
Roundups
Case studies
etc
Search Engine Optimization (SEO) is a set of practices designed to "convince" search engines like Google, Bing, and Yahoo to place your blog articles at higher positions on their results. The higher positions your posts occupy on a search engine's results pages (SERPs), the more people will be visiting them.
Lastly, incorporate your ClickBank affiliate links throughout your blog content via:
Image Banners
In-Text Ads
Floating Bars
Popups
Call-to-Action Buttons
etc
2. Content Publishing Platforms
Another way of advertising ClickBank products for free via blogging, but without actually launching a blog of your own, is by using content publishing platforms.
Content publishing platforms are third-party blogs that allow you to use their existing infrastructure for writing, publishing, and sharing blog content online.
A few of the most popular content publishing platforms include, but aren't limited to:
Medium
Blogger
LinkedIn Articles
& Ezine Articles
The primary advantage of promoting ClickBank products on content publishing platforms is that most of them have massive, well-established audiences. For example, Medium receives 85 – 100 million active readers per month.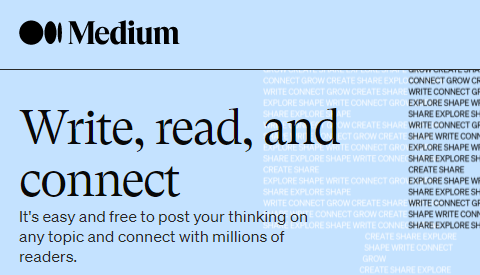 Getting just a tiny fraction of such a large number of users interested in reading your content and purchasing some of the ClickBank products you endorse could yield thousands of dollars in monthly affiliate commissions.
The downside of doing affiliate marketing on content publishing platforms is that your affiliate revenue will constantly be at the mercy of potentially unfavorable changes they make in their terms and conditions.
For instance, Medium allows affiliate links as long as you make an appropriate affiliate disclosure statement.
However, if someday Medium decides to prohibit affiliate links like Pinterest did a while back, your Medium-based affiliate business will vanish overnight.
3. Social Media
The second-best method of promoting ClickBank products for free is social media.
That's because social media aren't just free to join and use, but according to statistics, they're being used by 4.6 BILLION people for an average of 2.5 hours every day.
Picking the right social media platform for your affiliate endeavors boils down to two main factors.
Your target audience – For instance, Gen Zers spend most of their time on Instagram and TikTok. On the other hand, millennials and baby boomers prefer hanging out on Facebook.
The affiliate products you promote – For example, platforms that support long written copy like Facebook and LinkedIn are excellent for promoting B2B products and services. On the other hand, Instagram and Pinterest are better for promoting visually appealing B2C offers such as food, travel, clothes, cosmetics, and pastries.
Let's take a closer look at how to promote ClickBank products on two of the most popular social media platforms, Facebook and Instagram.
3.1. Promote ClickBank Products on Facebook
Based on Statista, Facebook is the most used social network with over 2.9 billion monthly active users.

Therefore, I can safely state that if you decide to invest in doing affiliate marketing via social media, Facebook is the social network you should start using first.
The process of successfully promoting ClickBank products on Facebook for free consists of seven simple steps:
Create a landing page
Optimize your profile
Set up a fan page
Build a group
Join other groups
Post relevant content
Leverage live videos
If you're interested in advertising your chosen ClickBank products on Facebook, make sure that you stay tuned for my upcoming, complete, step-by-step guide.
3.2. Promote ClickBank Products on Instagram
With over 1.4 billion monthly users, Instagram is also among the top social platforms you could leverage towards promoting your selected CB products for free.
Here's an overview of the step-by-step process:
Build a landing page
Add its URL to your Instagram profile's bio
Post relevant content
Make appropriate use of hashtags
Publish engaging stories
If you'd like to do affiliate marketing on Instagram, stay tuned for my upcoming, in-depth guide.
4. YouTube
An additional highly effective way of promoting ClickBank products for free is launching a YouTube channel.
YouTube is the second most populated social network after Facebook and the second most used search engine after Google, with 2.3 billion users worldwide.
On top of that, it's widespread across all current generations, from baby boomers to Gen Z. Lastly, video yields much higher conversion rates than most other types of content.
Promoting ClickBank products on YouTube is very straightforward.
First, get your YouTube channel up and running.
Then start consistently publishing videos relevant to the problem the CB products you promote solve.
For example, if you advertise an SEO training course, you should focus on publishing videos around nothing but SEO-related subjects.
Lastly, start placing your ClickBank links in the description below each video. You could also incorporate affiliate links to your video production gear such as cameras, microphones, light, software, etc.
Contrary to popular belief, building a full-time income as a ClickBank affiliate on YouTube doesn't require having millions of viewers.
For instance, if you're promoting a product that pays a $50 commission per sale and converts at an average rate of 1%, you can be earning $10,000 per month with as few as 20,000 monthly viewers.
If you're camera-shy, you can always put together videos without showing your face by leveraging PowerPoint presentations, photography, animated videos, or screen sharing.
5. Online Communities
One of the simplest and fastest methods of making money as a ClickBank affiliate is by promoting your selected products throughout online communities, such as:
Forums (e.g., Reddit)
Social media groups (e.g., Facebook)
Q&A platforms (e.g., Quora)
Real-time chat apps (e.g., Discord)
etc
Start by using Google to find communities of people who are the most likely to be interested in purchasing the ClickBank products you promote.
For instance, if you promote weight loss guides, Google "best weight loss forums."
You can also browse through multi-topic communities like Reddit and Quora for niche-relevant discussion boards, subreddits, spaces, etc.
Always keep in mind that promoting products that don't resonate with a community's overall topic will almost certainly hurt your credibility and produce no sales.
Once you've located a few communities that match your target audience, check their user guidelines to determine whether, how, and where they allow affiliate promotions.
For example, some communities don't allow the placement of links pointing directly to affiliate products. Others permit affiliate links only on post signatures.
If you fail to stick to a community's guidelines, its admins will probably ban and kick you out at once.
Lastly, invest in gaining the trust of your chosen communities by actively interacting with their members, sharing valuable insights, answering questions, and providing solutions to problems.
Don't start spamming your affiliate links randomly before delivering any upfront value, or else you'll be setting yourself up for failure and bans.
Nowadays, most communities have zero tolerance for desperate affiliate spammers who care about nothing but making a quick sale.
6. Email Marketing
Despite its old origins, email marketing is still one of the most efficient methods for advertising ClickBank products for free.
According to statistics, email marketing has a 3600% return on investment (ROI). This means that for every $1 spent on email marketing, you can expect an average return of $36.
That's the highest ROI among all forms of marketing, digital or otherwise.
Start by signing up for an email marketing platform, like:
ConvertKit
MailChimp
SendinBlue
& GetResponse
Such platforms have all the required resources to launch, maintain, and optimize email marketing campaigns, such as:
squeeze pages builders
lead capturing forms
automated email sequences
mass email blasts
campaign monitoring tools
& more
Next, create an automated email welcome sequence. That's a series of emails distributed to your subscribers at predetermined intervals when they join your email list.
The key to creating a successful email welcome sequence is gearing at least 80% of your emails towards earning the trust of your subscribers by delivering valuable, informative pieces of content with no affiliate promotions.
Here's what a typical email welcome sequence should look like:
Upon subscription: Welcome email
Day #2: About your business
Day #3: Introduce yourself
Day #4: The benefits of your business
Day #6: Set expectations straight
Day #8: Top pieces of content
Day #11: Answers to FAQ
Day #14: Affiliate promotion
Stuffing your email sequence with affiliate promotions will turn most subscribers off and hurt your conversions.
Once your automated email sequence is in place, start acquiring email subscribers by creating a lead magnet squeeze page.
A squeeze page is a standalone page designed to collect email addresses via a lead capture form.
A lead magnet is a valuable resource (e.g., ebook, webinar, discount, case study, free trial, etc.) offered as an incentive to anyone who subscribes to your email list.
According to Outgrow, using lead magnets can increase your squeeze page's opt-in rates by almost 85%.
Here's an example of a squeeze page offering free access to a webinar as a lead magnet.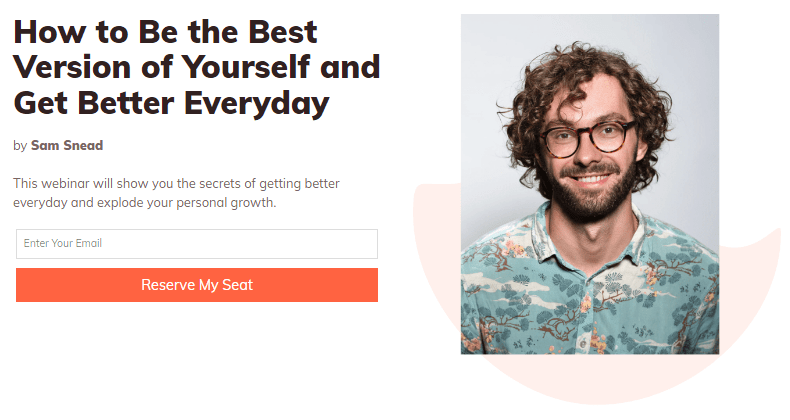 Lastly, start getting your squeeze page in front of your target audience by promoting it via as many online marketing channels as possible (e.g., social media, blog, Youtube, etc.)
7. Digital Products
Another excellent way of promoting ClickBank products for free is via other digital products like eBooks, online courses, and even lead magnets.
For instance, you could write a short eBook that narrates the story of a person who built a successful online business, within which you can recommend a ClickBank course that could help readers achieve similar results.
Another example is promoting antivirus software by teaching a short online crash course on boosting digital security.
Whatever the case, always ensure that the digital products you create focus on delivering value to those who consume them.
Poor-quality, overly salesy digital products developed for the sole purpose of promoting ClickBank products will most likely damage your reputation, diminish your conversion rates, and yield zero results.
Lastly, start distributing your digital products for free via any other marketing channel you see fit, such as:
Social media
Online forums
YouTube
Squeeze Page
etc
The process of making money by selling digital products is much more arduous and complicated, so I'd advise against it.
Since your primary goal is to get your ClickBank links in front of as many potential customers as possible, giving your digital products away for free is your best bet.
8. Live Webinars
An additional superb way of advertising ClickBank products is hosting live webinars on platforms, such as:
Facebook
Instagram
YouTube
Adobe Connect
Zoom
Livestorm
& more
According to RingCentral, live webinars have higher conversion rates than other marketing channels, converting between 5% and 20% of viewers into buyers.
The first step to leveraging live webinars towards promoting your affiliate products is determining your marketing angle.
For example, your marketing angle could revolve around outlining the benefits of the ClickBank product you promote, revealing how it's better than its competitors, explaining how it helped you or someone else overcome a problem or achieve a goal, etc.
Whatever your marketing angle is, you need to ensure that your live webinar is:
educational
valuable
engaging
& media-rich
Next, write your webinar's script. Keep in mind that 1000 words correspond to 6 minutes of speaking time.
Once the script is ready, turn its most essential elements into a PowerPoint presentation. That'll be the focal point of your entire webinar, so make it look professional.
After that, start spreading the word about your live webinar via other marketing approaches like social media, your blog, online forums, etc.
Lastly, place your CB affiliate links at distinct spots, such as:
The webinar's description
Live chat (if applicable)
Your profile
Inside the presentation
etc
Here are three tips that could help you significantly boost the conversion rates of your live webinars:
Focus on delivering value. Avoid making your webinar sound like a lengthy sales pitch.
Start by introducing yourself. Most viewers won't know who you are, so provide some info about yourself, explain the focus of your webinar, and why they should listen to you.
Activate your webcam. Place its feed at the left or right bottom corner of the webinar so that attendees can watch you making the presentation live.
9. Podcast
The last approach to advertising your chosen ClickBank products for free is leveraging a podcast.
A podcast is a series of live or recorded audio broadcasts around a particular subject. You can think of a podcast as the audible version of a blog.
The process of doing affiliate marketing on a podcast is relatively simple.
First, pick a topic that meshes perfectly with your selected ClickBank products. For example, a couple of subjects that would be ideal for promoting food blenders are cooking and smoothies.
Secondly, sign up for a podcast hosting provider to store and serve your audio files as well as create and update your RSS feed, such as:
Buzzsprout
Captivate
Transistor
Podbean
Resonate
etc
Afterward, integrate your hosting service with as many popular podcasting directories as possible, like:
Apple Podcasts
Spotify
Google Podcasts
Stitcher
& TuneIn
Once everything is in place, start producing high-quality podcast content.
Lastly, incorporate your CB affiliate links in the summary section of each podcast episode you publish.
Here's an example of how one of the most successful affiliate marketers, Pat Flynn, markets affiliate products on his podcast.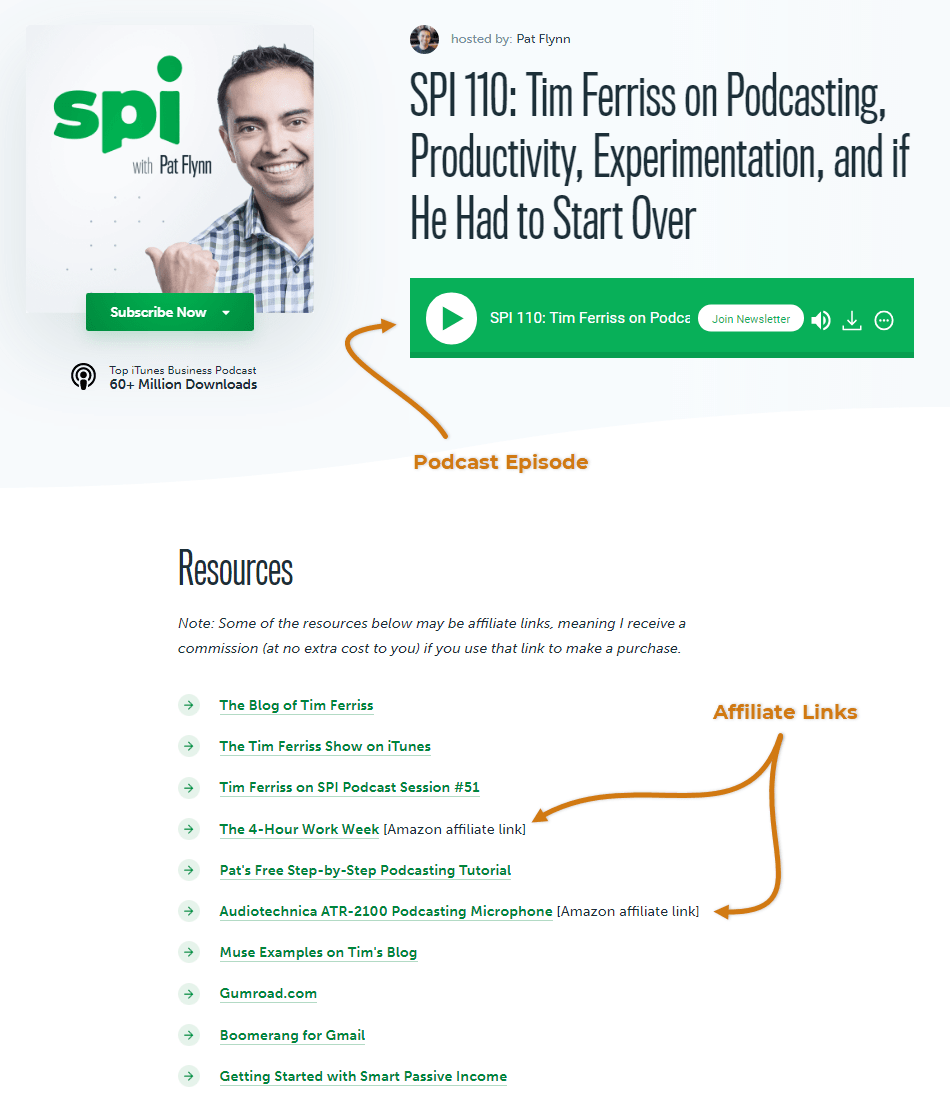 The main downside of affiliate podcasting is that its average conversion rates (~1%) are lower than most other marketing channels.
That's because most audiences consume podcast content on the go, usually while doing something else like driving, cooking, or jogging.
As a result, even if your podcast listeners are genuinely interested in purchasing the ClickBank products you promote, most of them won't be able to click on your affiliate links due to being preoccupied with other activities.
Therefore, I wouldn't recommend using podcasting as a standalone promotional method but rather in conjunction with another higher converting channel like a blog, a YouTube channel, or social media.
(Click each question to expand)
Conclusion
While having a budget to invest in your affiliate endeavors could significantly speed up your progress, it's not a prerequisite.
On the contrary, as we already saw, there are many ways to promote your ClickBank products for free, some of the best ones being:
Blog/Website
Content Publishing Platforms
Social Media
YouTube
Online Communities
Email Marketing
Digital Products
Live Webinars
Podcast
Classified Ads
Now that you're fully aware, having no money can't hold you back from getting started with affiliate marketing anymore, so the only thing standing between you and affiliate success is taking action.
If you're a beginner, try not to overwhelm yourself by doing everything and being everywhere at once. Instead, focus on mastering one marketing channel at a time.
Once you've acquired enough experience, data, and feedback, you can combine the best-performing ones into a powerful, high-converting affiliate marketing funnel.
For instance, you could combine an affiliate blog with email marketing or a YouTube channel with social media and digital products.
Regardless of which methods you decide to leverage towards advertising your ClickBank products for free, never forget that constantly forcing affiliate promotions down your audience's throat is a surefire way to failure.
Affiliate marketing is a game of value, not sales. The more value you deliver, the more sales you'll be making.
If you have any questions or require further help, I encourage you to leave a comment right below or contact me right here, and I'll do my best to get back to you as soon as possible.
Best of luck in your affiliate endeavors!
Harry, Founder & Creative Director at dearboss-iquit.com