Before I found out about affiliate marketing, I never knew that making money online was an option and that so many people were making their living through it.
However, despite reading all those success stories, I was still kind of skeptical.
I didn't know if affiliate marketing was for me or if I could make it work. Moreover, I didn't have much money to spend. I just wanted to dip my toes before going all in.
The expenses weren't that much, to begin with… Just $5 – $10 per month for a website hosting plan and $15 per year for a domain name.
But, why spend something if I can spend nothing right?
Thankfully, I found out how to start my online affiliate marketing business for free and I am going to let you know all about it.
1 • Pick An Interest
The first thing that you need to do before starting your affiliate marketing business is to pick an interest around which you are going to build your business, or as we affiliate marketers call it, your niche!
As an affiliate marketer, your #1 job is going to be producing valuable, long, and informative articles for your website which have to be relevant to your niche.
Ideally, pick a subject that you are passionate about in order to keep yourself engaged and motivated because you are going to spend hundreds of hours researching and writing about it. This way, it will also be easier to understand the needs of your audience and what products you should recommend, to help them solve their problems better and faster.
Lastly, picking a subject that you are passionate about will make it less likely for you to run out of things to write which is something that many beginners struggle with.
For more information on what is a niche and how to pick it, go ahead and take a look at What is a Niche Marketing Strategy? Finding Your Niche!
2 • Build Your Website
As stated earlier, most of the expenses to get started with affiliate marketing are related to getting your affiliate marketing website up an running.
Lucky for you, I didn't want to spend any money to get started either so I found a way to create my first affiliate marketing website completely free of charge.
I have created a step-by-step guide to show you exactly how to do that yourself as well.
Go ahead, create your affiliate marketing website, and come back to this guide for more info on what to do next.
3 • Think of Products to Promote Recommend
I don't like the word "promote" because promoting means selling and selling is hard. Plus, no one likes sales-y people and almost everyone can see through those who are desperate to sell something and guess what! They never buy from them.
Instead of trying to promote products on your website, just make recommendations.
What's the difference?
Well, by recommending a product, you are not trying to actively convince your readers to buy it by overselling it or highlighting only its advantages, but rather, you are telling them how this product might help them solve a problem they are facing better and faster.
So, what products might your readers find useful? For example, if you are in the Yoga niche, you could recommend yoga mats, clothes, courses, music, incense, books, etc.
Make a list of 10-20 products relevant to your niche before moving on.
4 • Locate Affiliate Marketing Programs
Now that you thought of some products that your readers might find useful, you have to locate affiliate marketing programs which will pay you money for recommending them.
You can find an affiliate marketing program for every single product on the face on the earth.
When you join an affiliate marketing program, the vendor will give you access to unique affiliate links which you can include throughout your website. This way the vendor knows when someone clicks your link and makes a purchase in order to pay you the commission.
To learn more about affiliate programs go ahead and read All About Affiliate Marketing Programs: How to Find, How to Join, etc
5 • Keep Writing Content
I've said it earlier and I am going to say it again!
Your main duty as an affiliate marketer is to keep producing content (articles) for your website, which is relevant to your niche (the subject of your website) and somehow helpful to those who are going to read it.
Some quick tips for writing good articles are
Make your titles captivating and relevant to what you are going to talk about
Pack your articles with useful information
Structure them well with paragraphs and headers
Don't try to sell… Try to help! Don't promote… Recommend!
Start writing and never stop
Aim for more than 1000 words per article
The more articles you have on your website, the more likely it is for people to stumble upon one of them and visit your website. The more people visit your website the more money you are going to be making. It's all a game of numbers, at least at first.
Also, search engines tend to rank websites with an abundance of content in higher positions.
For more tips on creating quality content go ahead and take a look at my 12 Awesome Tips to Writing Killer Website Content as a Beginner
6 • Employ Ways To Attract Visitors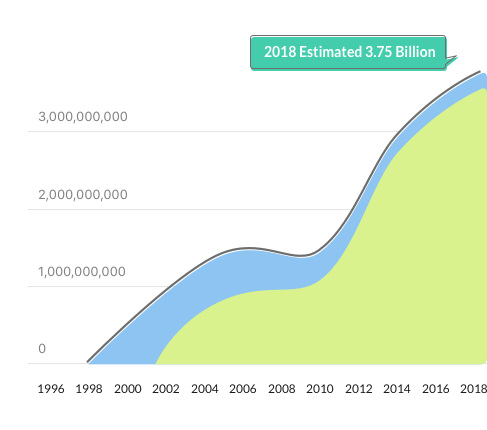 One of the most challenging things for affiliate marketers is to get their content in front of other people. This is also where most affiliate marketing businesses fail.
If no people read your content, then no one is going to click through your affiliate links and as you can guess, this equals no money for you.
There are many ways to bring people to read your content such as
Posting on Social Media
Paid Advertising
YouTube
Search Engine Results
Word of Mouth
etc
The way that I am using to drive traffic to this website is organic, free search engine traffic using specific keywords.
This means that when I write an article, I include relevant keywords in it and when someone searches Google or any other search engine for those keywords, my articles show up in the results. This technique brings free traffic to my website 24/7/365 and turns my income almost completely passive.
Find more about using keywords to drive traffic to your website by reading Keyword Research: The Absolute Beginners How-to Guide
Final Thoughts
Everything that I have talked about within this article is basically the tip of the iceberg when it comes to becoming a successful affiliate marketer.
Getting your affiliate marketing business up and running is definitely not enough to make money online. To tell you the truth, it is the easiest and simplest thing that you are going to do as an affiliate marketer.
If you have no previous experience with online businesses and affiliate marketing, you will definitely need to follow some training or you are going to have a very hard time moving forward by yourself. You might even get so frustrated that you quit. Just so you know, even those who follow the most extensive and high-quality training end up failing. It is almost impossible to do it alone.
I know that affiliate marketing might sound simple but it is not easy to make your living through it.
Thankfully, there are a lot of free resources online. You can use Google or Youtube to find information on developing and monetizing your affiliate marketing business, but again, it will be harder than looking for a needle in a haystack.
So, in order to avoid tons of frustration and minimize your chances of quitting, you might need to find a structured dedicated training at least until you get the hand of the whole process.
Wealthy Affiliate, the platform that you just used to create your affiliate marketing website has some awesome free training modules to get you started. You could check out Affilorama as well.
I prefer Wealthy Affiliate over Affilorama as they provide a higher quality and more structured training. But you can definitely squeeze as much knowledge as you can out of both of those platforms for free.
If you have any questions or need any further help or guidance from me, I encourage you to leave a comment below or email me at harry@dearboss-iquit.com.
You could also drop me a PM on my Wealthy Affiliate Profile.
Whatever the case, I will get back to you as soon as possible.
My best regards to you,
Harry,
dearboss-iquit.com