Over the last couple of weeks, I've received numerous requests to review a relatively new affiliate course called "Commission Academy".
And since I'm all about keeping you guys satisfied, I invested the last 10 hours in conducting the research needed to put together your requested review.
Having said that, this Commission Academy Review is dedicated to providing you with every single piece of info you might need to make an informed decision about whether Commission Academy is worth your time and attention or not…
Let's get started.
Commission Academy Review Summary
Best Affiliate Marketing Courses
What is Commission Academy?
Commission Academy is an affiliate marketing crash course that's mainly geared towards helping absolute beginners understand the basics of affiliate marketing as well as launch and set up their first affiliate marketing online business completely for free. The course was created by super affiliate and 6-figure earner, Dale.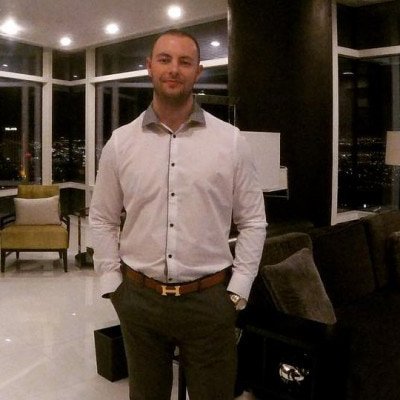 Dale used to work a regular 9-5 job as an electrician.
At some point, he stumbled upon an online business model called "affiliate marketing" completely by accident and decided to give it a go just for fun.
A couple of years later, Dale's affiliate marketing endeavors were bringing in a full-time income online.
This enabled Dale to quit his job and escape the 9 to 5 grind for good.
Eventually, Dale decided to put together a dedicated course that would walk other people through the same process he'd leveraged towards building a source of income online with affiliate marketing from scratch.
And that's how Commission Academy came to be.
On top of Commission Academy, Dale currently runs two very successful affiliate websites, livingmoreworkingless.com and affiliatemarketingfaq.com.
What is Inside Commission Academy?
Upon joining Commission Academy, you'll get your hands on the following:
Let's dig a little deeper, shall we?
Commission Academy's Fast-Start Training consists of 3 core training modules:
Set-Up
Start-Up
& Make Money
The Set-Up Module contains 3 lessons that give you an overview of what affiliate marketing is and walk you through the process of selecting your niche and launching your first affiliate website.
The Start-Up Module is comprised of 5 lessons that provide step-by-step instructions about accessing, setting up, and customizing your affiliate website, creating and publishing your first few web pages, as well as leveraging email marketing towards maximizing your affiliate profits.
Last but not least, the Make Money Module consists of 8 lessons that focus on unraveling the process of monetizing your affiliate marketing website…
Some of the subjects covered in this last module include:
Conducting keyword research
Creating search engine optimized content
Integrating your affiliate links
Scaling your business with YouTube videos
Putting together product reviews
Outsourcing content production to freelancers
& more
All the lessons found within CA's Fast-Start Training are composed of videos that range from 2 to 10 minutes each along with their respective scripts that can be utilized either for easier reference or more convenience by people who prefer text-based learning. 
Once you've fully completed Commission Academy's Fast-Start Training, you'll be prompted to start scaling your affiliate business by taking part in its Super Affiliate Training…
CA's Super Affiliate Training basically funnels you to a couple of paid training modules that haven't been created by Dale but rather by third-party affiliate marketing training courses.
For example, currently, CA's Super Affiliate Training is mainly geared towards an affiliate course called "The 15 Day Online Business Builder Challenge" created by online marketer David Sharpe.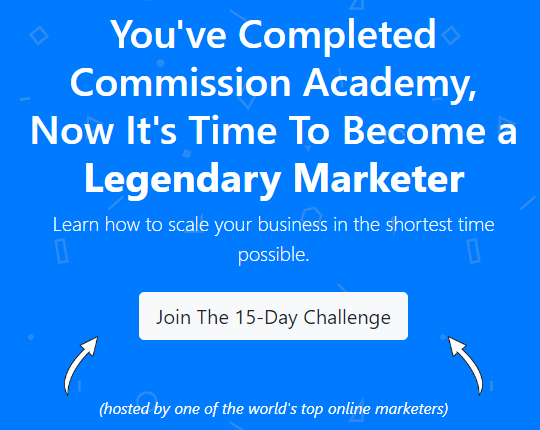 The 15 Day Online Business Builder Challenge costs a one-time payment of $7 and revolves around putting together sales funnels that'll be promoting high-end affiliate products in exchange for high-ticket commissions.
Frankly, I'd never heard of neither The 15 Day Online Business Builder Challenge nor David Sharpe before researching Commission Academy but after closer investigation, they both look legit.
Moreover, CA's Super Affiliate Training contains a few replays of past live webinars held within another legit affiliate course called Wealthy Affiliate, that cover subjects such as:
Competition analysis
Google Analytics & Google Search Console
Email marketing
Finding profitable affiliate programs
Keyword research
Monetization strategies
& more
Getting your hands on those webinar replays is possible only if you join Wealthy Affiliate's premium membership that costs $49/month or $495/year.
Suggested Tools & Resources
This section is a roundup of all the tools and resources you'll need to have at your disposal to build and scale your affiliate marketing business, from keyword research tools and royalty-free images to freelance logo designers, additional training, email autoresponders, and even ready-built websites.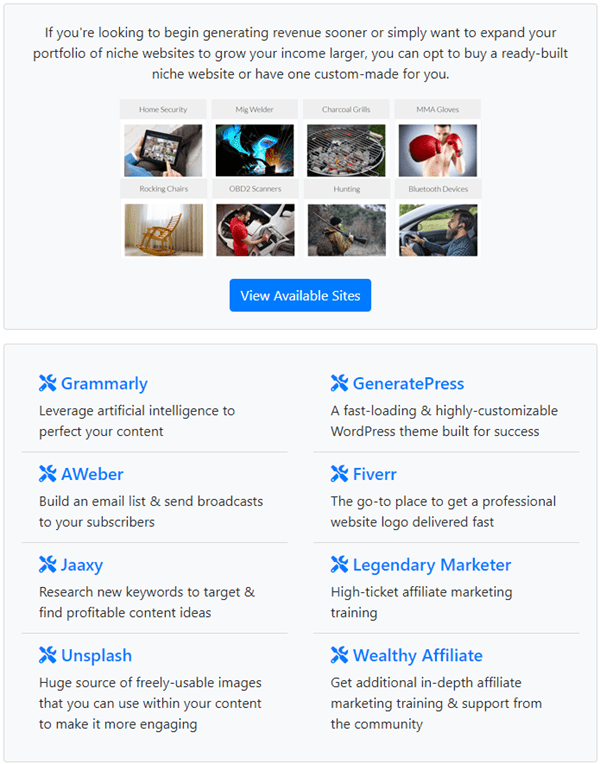 Commission Academy provides dedicated email support to all its members.
Whether you have questions about the training or need technical support, just contact CA's dedicated support team and they'll do their best to get your issues sorted as fast as possible (usually within 24 to 72 hours).
Moreover, Dale gives you the option to reach out directly to him by clicking the chat icon at the bottom right corner of the Commission Academy platform (desktop only).
On top of the dedicated support, all Commission Academy members can optionally take part in private one-on-one coaching sessions with Dale.
To sign up for Dale's one-on-one coaching program you'll need to join Wealthy Affiliate's premium membership that costs either $49/month or $495/year.
The coaching sessions will then take place through direct messages that'll be exchanged via Wealthy Affiliate's private messaging function.
Last but not least, upon joining Commission Academy and completing its Fast-Start Training you'll be granted access to its affiliate program which would basically enable you to pocket commissions for promoting Commission Academy itself.
For instance, let's assume that you just referred a friend of yours to Commission Academy… If your friend ends up making a purchase within Commission Academy (one-on-one coaching, prebuilt website, email autoresponder, etc) Dale will pay you a commission.
According to Dale, Commission Academy's affiliates can earn up to $1000 per person they refer to the platform.

How Much Does Commission Academy Cost?
Commission Academy is completely free to join.
The first thing that I like about Commission Academy is that it's 100% free to join and utilize.
This means that CA is perfect for those who'd like to give the affiliate marketing business model a try without having to commit financially for the time being.
Commission Academy is probably the most beginner-friendly affiliate marketing course I've come across until now.
The overall structure of the platform and the step-by-step training it offers are laid out in such a way that even the least tech-savvy person on the Earth won't have the slightest difficulty navigating and following through the course.
One of the most encouraging aspects of Commission Academy is that its creator, Dale, is currently an affiliate marketing millionaire.
This basically means that Dale possesses the actual knowledge that could help anyone build an income online just like him.
As a matter of fact, Dale launched Commission Academy as a means of sharing with you everything he's learned throughout his journey of going from zero to earning 6 figures online.
As mentioned earlier, Commission Academy's training lessons come in both video and text formats that can be interchanged accordingly depending on the learning mode that you feel the most comfortable with.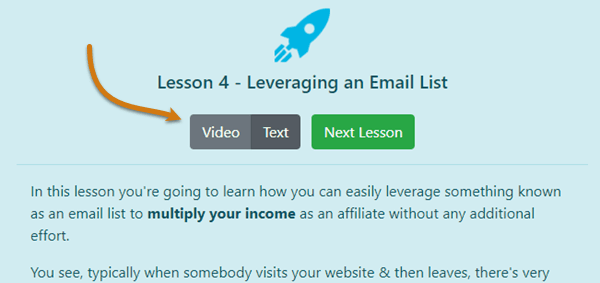 That's pretty convenient, not to mention considerate.
1. Funnels to Paid Resources
When I first came across Commission Academy I couldn't help but wonder what was Dale's motivation behind putting together an affiliate marketing course that he'd give away completely for free…
Well, after closer investigation I realized that Commission Academy is built in such a way as to funnel its members to a multitude of additional paid resources, such as:
The 15 Day Challenge
Aweber
Jaaxy
Fiverr
& more
While there's nothing inherently wrong with earning commissions by promoting paid resources to people who might actually find them beneficial, my objection here is that Dale should be disclosing that CA's free training is meant JUST to get your affiliate business off the ground and that to take it to success, you'll eventually have to invest in most, if not all, the paid resources he suggests.
One thing that kinda turns me off about Commission Academy is that I couldn't locate Dale's last name anywhere online…
After having reviewed hundreds of make-money-online scams I've realized that lack of information regarding the owner of any given money-making program in question is usually a bad sign.
Nonetheless, I'm not claiming in any way that Commission Academy should be labeled as a scam just because I couldn't figure out what Dale's last name is.
All I'm trying to point out is this lack of info might seem kinda weird, especially to those who'd never heard about Dale prior to coming across Commission Academy.
3. Lack of Success Stories
The factor I take into account the most when deciding if an online course is worth my time, energy, and money is whether or not it has generated any success stories.
Unfortunately, at the time I'm writing this review, Commission Academy has none…
Nonetheless, to be fair, Commission Academy is newly launched so chances are that most of its current members have yet to reach any substantial success.
Plus, since the course's core training is merely geared towards getting you started with affiliate marketing, I'm not really sure what kind of success stories I'd expect it to have.
Nonetheless, CA does have a few positive testimonials (see below) and the overall feedback it has received online seems rather promising.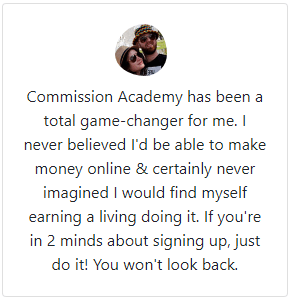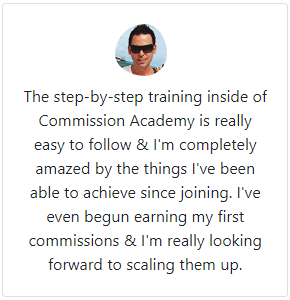 How to Join Commission Academy?
Joining Commission Academy is extremely straightforward…
First, click here to get redirected to CA's main website
Click the "Get Started For Free" button
Fill in the signup form with the required info
Click "Create Account"
That's it…
You're now officially a member of Commission Academy!
(Click each question to expand)
Conclusion
Commission Academy might not be the best affiliate marketing course out there but it's definitely 100% legit.
Its core training takes you by the hand and guides you step by step through the whole process of launching and fully setting up your first affiliate marketing business from scratch even if you possess zero prior experience with such matters.
Plus, it's completely free to join and utilize.
Having said that, if you'd like to get a solid taste of the affiliate marketing business model without having to invest an arm and a leg, Commission Academy is undeniably worth your attention.
Nonetheless, before jumping right in, I strongly suggest that you take a look at my roundup of the Best Affiliate Marketing Courses.
Who knows…
You might end up coming across a much more promising affiliate course that you'll like even better there.
Have any questions?
Please leave a comment right below or contact me right here.
I'll be more than happy to help you out!
All the best,
Harry
dearboss-iquit.com