A few years back, in order to build your affiliate marketing website for free, you had to code the whole thing by yourself…
The whole process would take an experienced programmer a lot of hard work and months of consistent coding just to get an initial framework of the website ready.
Only after that, they could start scaling their business by adding content, optimizing the website for the search engines, applying tactics to attract and convert readers, etc.
As you can understand, creating your affiliate marketing website for free used to be a pain in the ass.
The other alternative was to pay someone hundreds of dollars to build it.
For some, hiring someone to build their website might have been a viable option but for most, there was not enough money.
To get your affiliate marketing website up and running would either require you to spend a lot of your money or a lot of your time.
Thankfully, nowadays, you can skip all this trouble and create professional-looking websites for free and almost effortlessly in just a few simple steps.
If you keep reading I will show you how to do that yourself just like I promised.
Creating Your Affiliate Marketing Website for Free is a Big Deal!
At least, this was the case for me.
I was first introduced to affiliate marketing by chance while looking for a way to make some extra money to supplement my low-paying, part-time job. At that time, I really had no money to spare, thus spending any of them on creating my affiliate marketing website was really not an option for me.
I didn't even know if affiliate marketing was a legit way of making money online… It might as well have been just another scam like those that I kept reading about.
Furthermore
I didn't really trust the whole process
I wasn't aware of how long it would take to start making money
I didn't know if I had what it takes to make it work for me
I wasn't sure if it would be my kind of thing
I wasn't making money through it yet
Spending any amount of money just to get my affiliate marketing website started sounded like a huge risk for me and I wasn't willing to spend a dime.
Truthfully, if I hadn't found a way to get my affiliate marketing website started for free, I most probably would have never gone into affiliate marketing in the first place.
Thankfully, I found the way to dip my toes before going all in and I am here to show you how to do the exact same thing yourself.
How to Create Your Affiliate Marketing Website for Free
So, the way to build your affiliate marketing website for free, besides of course coding it yourself, is by using a free website builder.
WordPress and Wix are such free website builders and actually two of the most popular ones out there.
However, the platform that I used to create my very first affiliate marketing website for free is called SiteRubix.
SiteRubix is a little-known, WordPress based website builder which was created by an affiliate marketing training community called Wealthy Affiliate, in order to enable its members to always be literally less than 10 clicks away from building professional-looking websites.
With SiteRubix building a website has never been simpler and easier.
And the best part?
Websites created on SiteRubix will look even better than those coded by experienced programmers.
The 7 Steps to Building Your Free Affiliate Marketing Website Using SiteRubix
The steps to creating your affiliate marketing business for free using SiteRubix are as follows
Access the Website Builder
Build your website on a free domain
Select your website's free domain name
Fill in your website's title
Choose your website's appearance design
Build your website
Step 1 – Join Wealthy Affiliate for Free
The first step that you have to take in order to be granted access to the SiteRubix website-builder is to create a Free Wealthy Affiliate account (only Wealthy Affiliate's members can access SiteRubix).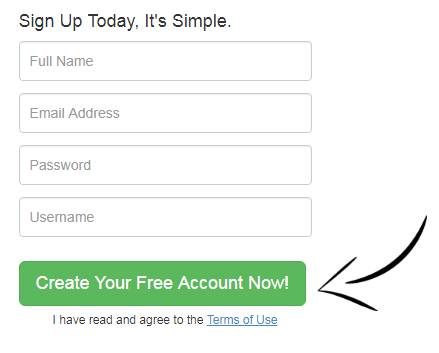 Step 2 – Access the Website Builder
Once your account is created and you are logged in Wealthy Affiliate, to access the website-builder go ahead and click the "Websites" tab on the far left sidebar of the platform and then hit "SiteBuilder".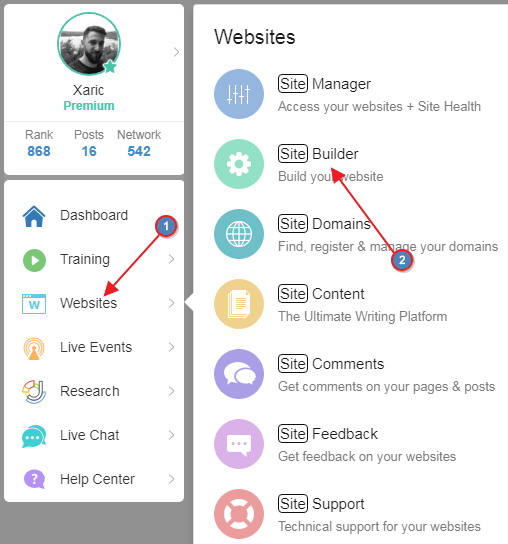 Steps 3 to 7 – Building Your Free Website
3rd Step – Choose to build your website on a free domain
4th Step – Select your website's domain name (for example yourwebdomain.siterubix.com)
5th Step – Fill in your website's title (if your domain name is yourwebdomain.siterubix.com then your title should be Your Web Domain)
6th Step – Choose your website's appearance design
7th Step – Hit the "Click Here to Build This Site!" button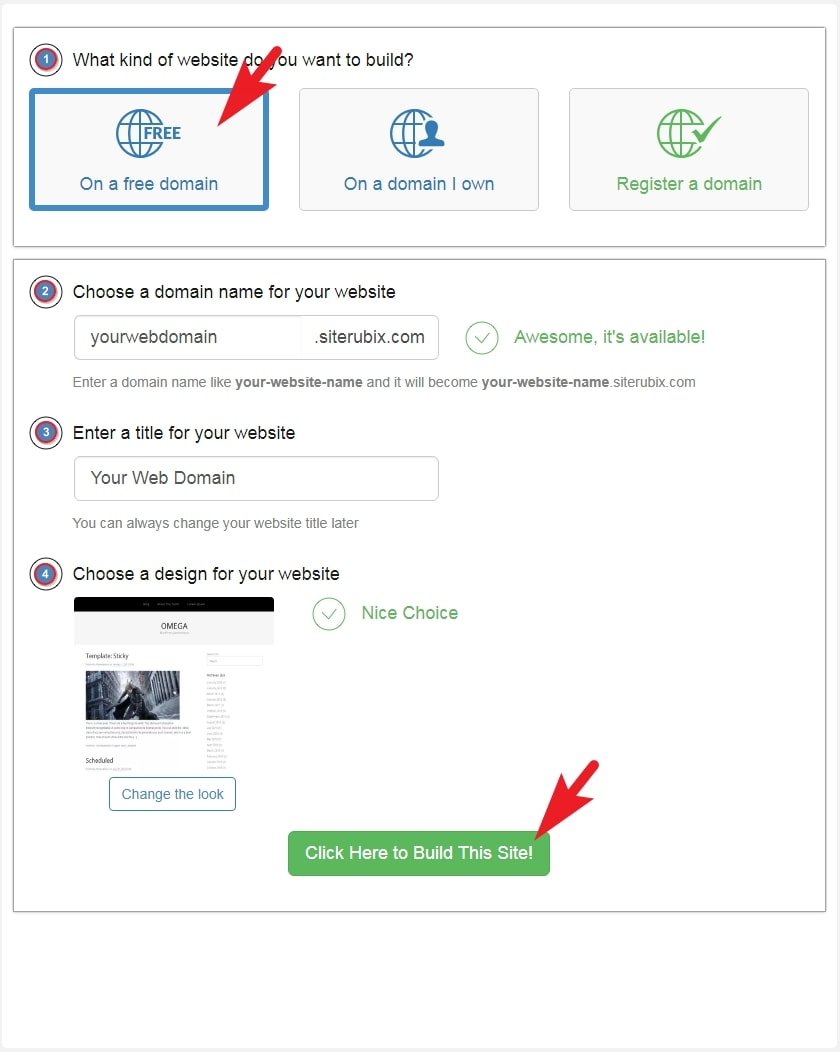 You are done!
Your website is now up and running! Yeap, it was that simple!
However, creating your website and just leaving it be won't bring you any money. You have to actually start improving it by
adjusting your menus and sidebar
finding and joining affiliate programs
including affiliate links in your articles
optimizing your website for the search engines
determining your target audience
employing useful tools that will help you scale your business easier and faster
etc
If you don't know how to do any or most of those things just mentioned, then you are definitely in need of some affiliate marketing training, because those are just a fraction of the things that you need to know how to do in order to start earning money from your affiliate marketing website.
Where to Find Affiliate Marketing Training?
To tell you the truth there are tons of free affiliate marketing training resources online. You can try Google, Youtube, affiliate marketing forums, Quora, etc
However, as a person who has no clue how to get started and where to go next, I recommend that you start looking for a structured beginner's training.
Following a structured, step by step training will definitely save a lot of your time and energy searching online as well as trying to recover from applying faulty advice given from inexperienced sources.
The place that taught me all I know about affiliate marketing is Wealthy Affiliate.
Wealthy Affiliate is by far the best affiliate marketing training platform for beginners as it can provide awesome, must-have tools such as the SiteRubix website builder, in-depth and structured affiliate marketing training, and a highly success-driven, active and helpful community.
Go ahead and take a look at my in-depth Wealthy Affiliate review in order to find all about its features, tools, training, community, support, etc.
Free Website-Builder Platform Disclosure
Every free website builder comes with a price of not having full control over the customization of your website.
For example, WordPress won't let you install plugins to your free website unless you upgrade to their business plan. Likewise, Wix won't let you connect your website to Google Analytics until you pay for one of their premium plans.
SiteRubix is exactly like that…
To get your hands on its most exquisite features you will have to upgrade your free Wealthy Affiliate membership to premium.
SiteRubix premium gives you access to a plethora of features which every entrepreneur would find more than useful such as
WordPress content management system (WordPress powers 1 out of 5 existing websites)
50.000+ website add-ons(plugins)
3000+ different appearance theme templates
Increased website loading speed
Spam Blocker
Website's health analysis
Domain name and email management
Request for comments and feedback on your website from other premium members
and much more
If you are serious about growing your affiliate marketing business and making money through it, either you create your website for free on SiteRubix, or on any other free platform, you will most probably have to pay for one of their premium plans at some point.
Don't get me wrong, you can absolutely start making money with a free affiliate marketing website, but the full control over it that paid plans offer will definitely help you reach your goals easier and faster.
Free website builders are free for a reason… To let you use them until you decide that you are in need of their premium plan.
Final Thoughts
When I was where you are right now I didn't concern myself with any paid plans… I just wanted a free website to get started… When the time was right, I upgraded my membership to premium. I have been a premium member for more than 2 years now.
If you didn't build your free affiliate marketing website yet, scroll up and start following the 7 steps as outlined.
After that, get started with the free Wealthy Affiliate training. Soon you will start getting the hang of the whole process and you will be moving closer and closer to making money through your website.
However, be aware that affiliate marketing success is a long journey. It takes time, effort, patience, and perseverance. The end result is definitely worth the trouble though.
Since you are here, don't miss another day!

If you have any questions or need any further help or guidance from me, I encourage you to leave a comment below or email me at harry@dearboss-iquit.com.
You could also contact me through a PM on my Wealthy Affiliate Profile.
Whatever the case, I will get back to you as soon as possible.
My best regards to you,
Harry,
dearboss-iquit.com