A few days ago, a friend or family member who is working as a Bonvera Entrepreneur approached you and told you about how she makes her living by selling Bonvera's products to other people.
She might have mentioned stuff like "Become your own boss", "Gain time freedom", or maybe "Make money while you play".
You grew curious but at the same time, you can't stop wondering if everything she told you was real or if she was trying to suck you into a huge MLM scam.
Since there's no such thing as being too cautious, you had to do your research before joining.
Well, you definitely landed just in the right place!
In this review, I am going to cover every single aspect of Bonvera, such as
What is Bonvera about?
Is Bonvera a scam? A pyramid scheme maybe? Or a legit MLM company?
How to join Bonvera as an Entrepreneur?
How much does it cost to join Bonvera as an Entrepreneur?
Pros and cons of joining Bonvera
Bonvera's compensation plan
Can you really make money with Bonvera?
How much money can you earn with Bonvera?
and much more
In addition, I am going to let you know about a couple of alternative money-making opportunities.
This way, you'll have every piece of information you might possibly need to make an informed decision about whether Bonvera is worth your time and attention or if you'd better invest in a more legit and promising program.
Let's get cracking!
Company Name: Bonvera
Owners: "A group of successful business owners" + Robert Dickie
Price to join:
$149.95 for Registration Kit (one-time payment)
Up to 100PBV worth of products to maintain active and qualified status
Official Website: bonverahq.com
Suggested? So and so…
Increase your chances of reaching success in multi-level marketing by following a dedicated MLM course.
.
Before I move on to the actual Bonvera MLM review, I want to reveal to you some general MLM statistics that will probably SHOCK you to your very core.
10 Shocking MLM Statistics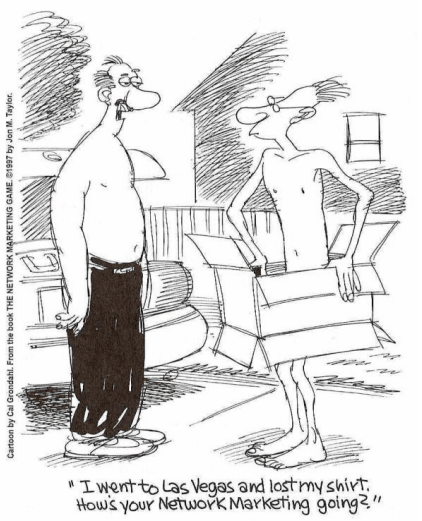 Bonvera (meaning"Good Faith"), is an MLM company that manufactures and distributes products that range from weight loss and nutritional supplements to skincare products and coffee.
According to Bonvera's website, the idea of this company was conceived by a group of business owners in 2004.
However, this idea took a lot of years to materialize and the company was launched very recently in 2016.
Although there's no information on who this group of business owners that conceived the idea of Bonvera consists of, what we know for sure is that one of the company's co-founders, as well as its current CEO, is a former United States Air Force Captain, Robert Dickie.
Since leaving the US Airforce in 2004, Robert Dickie has served as CEO and President of 3 other companies including:
Signature Management Team
Crown Financial Ministries
KVC
Despite the fact that Robert Dickie didn't have any experience in the MLM field prior to Bonvera, it is said that after he became the company's CEO, he relocated Bonvera to Knoxville, Tennessee and has already helped more than 20.000 people begin their entrepreneurial journeys.
Bonvera's mission is to empower people to become successful in every dimension of their lives through a proven system of leadership, education, and coaching combined with exceptional products and services.
The company operates around the values of integrity first, service before self, and excellence in all they do.
You can find a lot more about Bonvera, its history, leadership team, mission, products, vision, policies, etc on the company's official website.
Bonvera Products & Prices
Bonvera distributes quite a variety of products that fall under the following 4 main categories:
Skincare
Nutritional & Wellness Supplements
Weightloss Supplements
Coffee
The company's flagship series of products is called Luebella which means "Beautiful Light" and it consists of paraben-free, dermatologist-tested, non-comedogenic, gluten-free, vegan skincare creams, scrubs, serums, and more (I don't know what any of this really means but I suppose that it must signify high-quality).
Bonvera is also pretty well-known for its Phyzix line of products which is a series of nutritional, wellness, and weight loss supplements formulated by Bonvera's Medical Director Dr. Jeff Davis which are supposed to boost the body's optimal wellness, immune system, and metabolism.
Bonvera sells hundreds of more products but for obvious reasons, I am not going to list every single one of them.
The prices of Bonvera's products range from $0.99 to $350+
You can find more info about Bonveras's products and their respective prices on the company's official e-shop.
Bonvera Entrepreneur
Compensation Plan
The majority of MLM companies have so overly complicated compensation plans that it feels like you need to have a rocket scientist doctorate to understand just their first paragraph.
Bonvera's compensation plan is no exception…
Nonetheless, I'll try my best to get you up to speed.
Please be aware that at the time of this review, Bonvera's latest compensation plan isn't available anywhere online so I had to contact the company's customer service department to get my hands on it.
The sent me a PDF overview of the compensation plan but it truly seems very incomplete.
I sent them another email asking about a detailed version of Bonvera's compensation plan but they haven't replied back to me in 2 days.
So, I'll have to move forward with what I've got!
Bonvera compensates its Entrepreneurs in 7 different ways.
Retail Commissions
PBV Bonus
Registered Customer Bonus
Differential Bonus
Partner Bonuses
BVr1 to Car Bonus
National Bonus Pools
Receive 20% commissions on all the retail sales of Bonvera's private label products, both online, offline, and Smart Shopper.
This bonus is calculated by multiplying your Personal Bonus Volume (PBV) with something that's called Bracket %.
Your Bracket % is determined by your Total Group Bonus Volume (TGBV).
10000 TGBV = 28%
7500 TGBV = 24%
5000 TGBV = 20%
2500 TGBV = 16%
1500 TGBV = 12%
750 TGBV = 8%
75 TGBV = 4%
TGBV = The total BV generated by all your downline Entrepreneurs through unlimited depth
3 • Registered Customer Bonus
Earn a bonus equal to 50% of your Personal Customer Bonus Volume (PCBV).
The full PCBV amount is added to your Personal Bonus Volume (PBV).
Pays you a bonus that is calculated based upon the difference between your Bracket % and the Bracket % of each of the Entrepreneurs in your downline.
Partner Bonus:
Earn a bonus of $1000 per month for as long as the following qualifications are met:
Build one team to at least 10.000 BV
Have at least 2500BV outside of that team
Achieve the rank of Partner
Sr. Partner Bonus:
Earn $250 on top of the $1000 Partner Bonus for as long as the following qualifications are met:
Build one team to at least 10.000 BV
Have at least 5000BV outside of that team
Achieve the rank of Sr.Partner
Receive a car bonus of $400 per month for as long as the following qualifications are met:
Have an active BVr1 (auto-ship order)
Build one team with at least 25 successfully processed BVr1
Have 25+ BVr1 orders between your other teams for three consecutive BVr1 cycles (no idea what that means)
The bonus can be applied to a blue or white Lexus, Lincoln, Cadillac, BMW, or half-ton pickup truck.
Bonvera allocates all its remaining commissionable dollars to 16 pools.
Pool amounts are divided evenly among those who have qualified for any given pool.
In order to qualify for the National Pool Bonus, you have to have at least 2 teams that generate 10.000BV each and have reached the rank of Professional or higher.
Right below, you can see a table with all the pool qualification requirements, allocations, and shares.
Please note that Bonvera's compensation plan might undergo changes from time to time so by the time you read this review, some of the info, the commission rates, the rank qualifications, etc that are displayed in the video and PDF file I shared with you right above might not be that accurate.
If you still have questions about Bonvera's compensation plan, you can contact the company's support team at support@bonvera.com
Or you could email me at harry@dearboss-iquit.com and I will do my best to help you out.
Bonvera Entrepreneur
Ranks & Qualifications
Unfortunately, the overview of Bonvera's compensation plan the company's support team sent me doesn't contain much info about the ranks a Bonvera Entrepreneur can reach and their respective qualifications.
Some of the ranks that I am aware of are:
Partner
Sr.Partner
Professional
Sr.Professional
Executive
Sr.Executive
Ambassador
Presidential Ambassador
I am pretty sure that there exist more ranks.
How to Join Bonvera as an Entrepreneur?
In order to join Bonvera as an Entrepreneur, you have to head over to the company's official website and click the "Contact a Bonvera Entrepreneur" button that is located on the top right of the website.
Fill in the information that is requested by the form and then click the "Contact Us" button.
After you do so, an Entrepreneur of Bonvera who is operating near you will either call or text you to let you know about the rest of the process.
How Much Does It Cost to Join Bonvera as an Entrepreneur?
In order to join Bonvera as an Entrepreneur, you have to purchase one of the three enrollment kits below:
Bonvera Sampler: $149.95 (one-time payment) – Contains a bottle of Kutano Memory & Focus, one box of Phyzix Vanilla Wafers, Phyzix Zero, and 12oz Thrive True North Ground Coffee
Phyzix MD Pack: $149.95 (one-time payment) – Contains a bottle of Phyzix MD MultiVitamin, a bottle of Phyzix MD Omega Max, a bottle of Phyzix MD Calm & Clear – Mixed Berry, and a bottle of Phyzix MD Immun-D
Luebella Skin Care Pack: $149.95 (one-time payment) – Contains a Luebella Anti-Aging Serum, Revitalizing Facial Cleanser, Night Cream, and Day Care
Be aware that in order to qualify for commissions during any given month, you'll have to maintain at least 100PBV (Personal Bonus Volume).
Personal Bonus Volume = Volume of all products purchased by you, your directly enrolled Smart Shoppers, and your retail customers combined.
This means that if during a month you don't reach that 100PBV through your Smart Shoppers and retail customers, in order to get your hands on your monthly commissions, you'll have to personally purchase products yourself until you reach that 100PBV.
Is Bonvera a Pyramid Scheme?
Most of the time it's very hard to distinguish between a legit MLM company and a pyramid scheme.
The video below will help you understand how to spot and avoid pyramid schemes in general.
The main difference between an MLM and a pyramid scheme is that MLMs give you the opportunity to earn commissions by selling actual products or services to retail customers while with a pyramid scheme the only way to earn money is by recruiting other people into the scheme.
Not all MLMs are legitimate. If the money you make through an MLM is based on your sales to the public, it may be a legitimate one. If the money you make is based on the number of people you recruit and your sales to them, it's not legit. It's a pyramid scheme. Pyramid schemes are illegal, and the vast majority of their participants lose money. – Federal Trade Commission
Since Bonvera offers you the option to earn commissions by selling its products in retail, the company cannot be considered a pyramid scheme.
Free Replicated E-shop
Free Shipping (Conditional)
Money-Back Guarantee
1 • Free Replicated E-shop
Once you become a Bonvera Entrepreneur, the company provides you with a free replicated e-shop.
When people purchase Bonvera's products through your replicated e-shop, 20% of the total amount of money those people pay land right into your pocket.
If marketed the right way, this replicated e-shop could help you maximize your retail customers and Smart Shopper subscriptions and thus your income.
If your business is not on the internet, then your business will be out of business – Bill Gates
Please note that Bonvera doesn't offer online Entrepreneur enrollment up until now, so you won't be able to personally recruit other Entrepreneurs through your replicated e-shop.
2 • Free Shipping (Conditional)
Bonvera offers free shipping to you and your customers when the following conditions are met:
Have a BVr1 with a BV of at least 135 and ALL the products you are about to purchase are CSQ
Have an order of at least 200 BV and ALL the products you are about to purchase are CSQ
If your order meets the BV requirements for free shipping, but one or more of the products you are about to order is not CSQ, you will be charged shipping only on the products that are not CSQ while the CSQ products will be shipped for free. 
CSQ = Complimentary Shipping Qualified – Can be found next to the product in your replicated e-shop
BVr1 (Bonvera Replenishment on the 1st) = A monthly replenishment order of at least 75BV that is processed in the first sixteen (16) days of a calendar month
Bonvera offers a money-back guarantee on products returned within 90 days of the day they got purchased.
Products with money-back guarantees are much easier to sell than those who have none.
People just seem to feel more comfortable spending money on something for which they are able to get a refund anytime they want if they needed to.
In addition, research shows that money-back guarantees increase customers' feelings of satisfaction with their purchases, making them more likely to make another purchase from the same seller.
All this translates to easier sales which in turn translates to more sales, which in turn translates to more money for you!
However, be aware that Bonvera refunds only 85% of the purchased price of any product as they charge a 15% restocking fee.
Also, shipping and handling charges paid upon order are not refunded. Return shipping charges will also have to be handled by the customer or the Entrepreneur that made the return.
In addition, in order for the refund to take place, the product returned must meet the following 2 conditions:
Be accompanied by a Bonvera's Return Authorization Form and receipt showing proof of purchase
Be in the original case quantity, condition, season, and not expired or discontinued
MLM Business Model
Pay to Receive Training
Too Much Hype
Scam Claims on FTC
As mentioned earlier, I am not at all fond of the MLM business model in general for many reasons…
First of all, the percentage of MLM participants who never actually make a profit is awfully high (74% – 99%).
In addition, the majority of those who do manage to make a profit, don't earn more than $5000 per year.
Secondly, I hate selling…
And thirdly, I've heard so many stories of people losing all their friends, family, and money due to the pushy and sleazy practices they were being taught by their "mentors" that I have become repulsed by the MLM business model in general.
Being involved in an MLM is just not worth the trouble in my mind.
Especially when there exist other much more legit ways of earning a lot more money without having to go through all that struggle of becoming a sleazy salesperson and jeopardizing your relationships with those around you because you can't stop perceiving them as walking bags of cash.
2 • Pay to Receive Training
What shocked me while conducting my research about Bonvera is that you have to actually pay to attend their training events…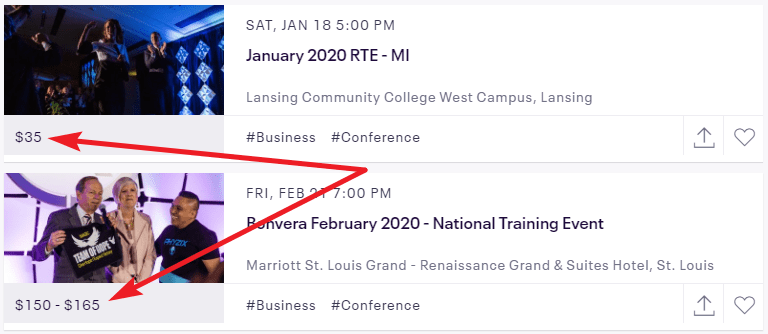 I am not really sure if as a Bonvera Entrepreneur you'll receive some standard training upon joining (doubtful) and what kind of training that would be, but having to pay to get trained is a whole new level of awful even for MLMs.
Bonvera creates too much hype about how if you become its Entrepreneur you'll be able to escape your stagnant and boring job and have more freedom in your life.
The company even claims that success isn't that hard and that by joining it you will become happier and find your purpose in life.
Those are classic lines that the majority of MLM companies use in an attempt to convince more people to join them.
They are trying to sell the mainstream dream of being an independent business owner who will work less than you would if you still had a job while traveling and getting to spend more time with your family and friends.
Quoting Bonvera:
Like many stressed out and overworked Americans, we were sick and tired of being sick and tired. We wanted more out of life. We were frustrated with stagnant careers that offered limited freedom to control our own lives, time and money. So, we founded Bonvera — a premium health, wellness, and lifestyle company you can trust that also offers independent entrepreneurs the opportunity to start their own Bonvera businesses.
Please don't fall for any of that shit.
Truth is, that only an extremely small percentage of people will be able to achieve such a lifestyle as MLM reps and it will probably take 10-15 years of working their ass off in order to get there.
While conducting my research about Bonvera, I came across this FTC post.
Now, this is just an article about spotting illegal pyramid schemes and has nothing to do with the FTC investigating Bonvera.​
However, what I found in the comments of that post was a bit disturbing.
A person asked if anyone had heard about Bonvera and quite a few people replied back to her that Bonvera is a huge scam.
Take a look at the images below to see for yourself.
While those claims don't prove that Bonvera is a scam, be aware that they have been left by people who seem to have partnered with Bonvera for a while.
So, take them into consideration before make your decision to join.
Bonvera MLM Review Summary
No Income Disclosure Statement Available. 74% – 99% of MLM reps fail to make a profit.
Replicated e-shop, personalized dashboard, samples, etc.
One-time fee of $149.95 for a Registration Kit. Up to 100PBV worth of products per month to keep yourself active and qualified.
Bonvera is NOT a pyramid scheme. Complaints about the company being a scam on FTC's website.
If you are already using Bonvera's products and you are really satisfied with them, joining Bonvera as an Entrepreneur might be a good opportunity for you to get some decent discounts on products you would purchase anyway as well as maybe make some extra money by selling some of those products to your friends.
If not, then joining Bonvera isn't suggested for many reasons…
First of all, your income potential with the company is directly correlated with the size of your downline and the Bonus Volume the generate.
Also, the "pay to get trained" model just sucks hard.
The scam claims on FTC are kinda alarming.
Frankly, Bonvera's private label products are way too expensive. Similar products can be bought from other retailers at half prices.
Lastly, to tell you the truth, I am not at all fond of the MLM business model in general…
The success rate and profitability of MLM reps are awfully low
MLM companies are extremely volatile and unstable
You need to invest a ton of money, time, and energy until you manage to make a profit (if you ever actually make a profit)
Most MLM companies focus on recruiting people instead of selling valuable and beneficial products or services
Plus, in order to make money with the MLM business model, you'll probably have to turn into a sleazy salesperson and I really hate selling as much as I hate being sold to.