Good for you!
You finally found out about affiliate marketing…
And you became intrigued.
You want to start your own affiliate marketing business.
But how much does it really cost to get started?
This question, along with "How Long Does It Take To Become A Full-Time Affiliate Marketer?", is actually one of the most common questions that those who are just one step away from starting an affiliate marketing business ask.
So, let me tell you right off the bat that to start your affiliate marketing business you need no more than $30. Hell, if you played your cards right, you could even get it up and running completely for free!
Let me explain.
How Much Does It Cost To Start An Affiliate Marketing Business?
Starting an affiliate marketing business is basically amongst the simplest and cheapest options when it comes to starting an online business.
First and foremost, as an affiliate marketer, you are earning money off of already existing products which immediately shaves off enormous chunks of time, money, and energy which you'd otherwise spend towards
Creating and launching your product
Product testing, maintenance, upgrades, etc
Customer service and handling complaints and refunds
Storage, packing, shipping, and other expenses
Addressing and correcting technical issues
Payment processing
Hiring staff to do all the above
Basically, all you need to get started is a computer and an internet connection (which I assume you already have).
You also need a functional website.
A few years back, if you didn't know how to code a website yourself, you would have to
either hire someone to code one for you  (at least a few hundreds of dollars of initial expenses)
or learn how to code yourself (at least 6 months just to get the hang of the coding language + a few more months until your website is ready)
Nowadays, you can easily create websites through WordPress or other website builders completely for free, in just a few minutes, even if you have zilch coding knowledge.
But you'll still need to purchase a domain name and a hosting service plan.
Domain name
The domain name of a website basically serves as the website's unique ID and it is that www.something.com thingy that every website has.
For example, the domain of this website is dearboss-iquit.com.
A domain name costs somewhere between $5-$20 per year and you can purchase one through a domain registrar such as GoDaddy, NameCheap, or Name.
You can never get your website live without a domain name.
Hosting Service Plan
A web hosting service provider is a business that provides the technologies and services needed for a website to be viewed throughout the World Wide Web. A hosting provider stores your website on special computers called servers. When an internet user types in your website's domain name into their browser, the server will deliver your website's main page to this user's browser.
Without a hosting service plan, no person in the world would be able to access your website.
The price of a hosting plan might range between $2 and $100 or even more per month, depending, of course, on the quality of the provider as well as the amount and usefulness of the services they offer.
For example, Bluehost offers hosting services which start at $2.95 per month and they include a free domain name and a free SSL. On the other hand, Google's hosting services start at $25 per month.
If you want to find out how to purchase a domain name, a hosting plan, and set up your WordPress website in just a few minutes, go ahead and take a look at How to Create a Website or watch the video below.
Assuming that you go for a $5 per month hosting plan and a $15 per year domain name, you can get your affiliate marketing business up and running for just $20 and keep it up and running for a whole year with a total of $75.
According to the U.S. Small Business Administration, to start a microbusiness will cost you around $3,000, while to start a home-based franchise might cost you somewhere between $2,000 and $5,000.
So, yeah… To start an online affiliate marketing business is nowhere near as pricey as starting a normal home-based microbusiness. And as I stated earlier on, you can even completely omit the costs of purchasing a domain name and a hosting plan and get started completely for free if you play your cards right.
How to Get Started With Affiliate Marketing for Free
When I first found out about affiliate marketing, I was skeptical. During my whole life, up until that time, I had never heard of a person who was making their living online. It was all new to me and the entire concept smelled kind of scammy.
That's why I didn't want to spend any money to get my business up and running. Not even those 20 bucks.
Plus, I didn't know if affiliate marketing would be something that I enjoyed after all.
I wanted to try this whole affiliate thing out for free before deciding if I should invest any of my money in it and if I hadn't found a way to get started for free, chances are that I would have never gotten into affiliate marketing in the first place.
But how did I do it?
How did I escape those very basic costs of a domain name and a hosting service?
Well, it turns out that there exist platforms that allow you to register a free domain name (it's actually a subdomain on their main domain name) as well as take care of your hosting, again for free.
Such platforms are WordPress.com and Blogger.com
But I didn't use any of them.
I actually used another one called Wealthy Affiliate.
What is Wealthy Affiliate?
Well, Wealthy Affiliate is a pretty popular, high-quality affiliate marketing training platform; they basically offer training for those who want to make their living through affiliate marketing.
Anyone can join Wealthy Affiliate for free.
As a free member, you can build as many websites as you want on a free domain name of your choice but host only 2 of them at a time on Wealthy Affiliate's shared hosting again completely for free. You also have access to some beginners' training modules which include training on how to build your website through Wealthy Affiliate's WordPress based, 1-click, website builder.
So, since you can get a domain name for free, and host your website for free, you can get started with affiliate marketing spending a nice and round zero dollars.
Plus, you can remain a free member for as long as you want.
The only catches are that as a free member
you have limited control over the customization of your website (you can choose only between 12 appearance themes and you can't add plugins)
the free domain name that I talked about is really a .siterubix subdomain, for example, yourwebsite.siterubix.com (they kind of say that it might be harder for a subdomain to achieve high search engine rankings, but it's just a myth)
If you want to gain full control over the customization of your website and use your own top level domain name, you'll have to upgrade your membership from free to premium.
But you don't have to. As I said earlier, you can remain a free member for as long as you want.
Watch this video below, to find out how to build your very first affiliate marketing website within Wealthy Affiliate completely for free.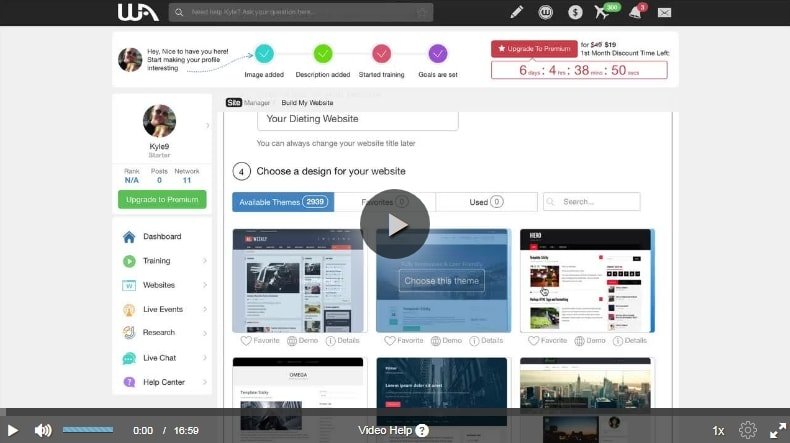 Additional Optional Costs
A domain name and a hosting plan are all you need to get started. And as we saw, you can get both of them for free within Wealthy Affiliate.
"But what about scaling my business? Do I have to purchase any tools? And if yes, how much do they cost?"
Many people might tell you that you need this and that to scale your business and become a successful affiliate marketer.
However, you really need purchase nothing more.
Everything that you'll ever need to turn your business into success can be found online for free; from keyword research tools, email autoresponders, plugins, themes, training, etc, all can be found for free so you can basically go from $0 to $1000 per month without having spent a single cent.
HOWEVER, the less money you invest in your business, the more time and effort you'll have to invest until results start kicking in.
Less money = more time and energy
More money = less time and energy
For example, your only job as an affiliate marketer, at least for the first 6-12 months is to keep creating valuable content for your website. You could invest let's say $400 – $800 a month to hire someone else to write content for you daily or you could compose this content yourself, which is going to take a lot more time and effort on your part.
Note: If you are a complete beginner, hiring writers right off the bat is not recommended because you will still have to develop a content plan and if you have no experience whatsoever chances are that you'll screw it up. Learn to write yourself first before hiring any writers to write for you.
Another example:
You could learn everything about affiliate marketing from other people's blogs (just like this one), Youtube, forums, etc or you could invest some money in a dedicated, structured training and save tons of time, energy, and frustration guessing, experimenting, going through trial and error or employing black hat strategies which end up ruining your business.
BTW, remember that earlier I mentioned that Wealthy Affiliate offers a pretty high-quality affiliate marketing training. Another almost equally good program is Project 24.
Last example:
In order to make any money through your affiliate marketing website, you need people to visit it and read your content, or else, as we affiliate marketers call it, web traffic.
There are two possible approaches to obtain traffic which are paid traffic and free traffic (organic).
If you decide to pay for traffic, and if of course, you do everything right, chances are that you'll be able to see higher and faster profits. On the other hand, if you go for free, organic traffic, it will take much longer to start seeing any substantial results. You'll most probably have to keep producing content for months before you even start seeing some traffic trickling in.
Conclusion
As you can see, the costs of starting an affiliate marketing business are minimal. Some platforms such as WordPress and Wealthy Affiliate will even let you started completely for free.
Scaling your business without spending any money is also an option but a rather time and energy consuming one. And the more time it takes for you to start seeing any results, the higher the chances of you giving up.
At least consider investing in some high-quality training. Believe me that it will absolutely make your life way easier, speed up the whole process by much, and it's not even that expensive to get your hands on.
Make sure to check out Wealthy Affiliate and Project 24 as both of them offer high-quality affiliate marketing training and their prices are not that bad.
PS – I have been a Wealthy Affiliate premium member for more than 2 years now.
So, are you going to pay for the basics to get started? How much are you willing to spend? Or are you going to take the "get started for free" path just like I did?
Let us know in the comments below.
If you have any questions or need any further help or guidance from me, please email me at harry@dearboss-iquit.com or drop me a PM on my Wealthy Affiliate Profile.
I'll be thrilled to help you out.
Harry,
dearboss-iquit.com